Areas We Serve in Southern Illinois & the St. Louis Area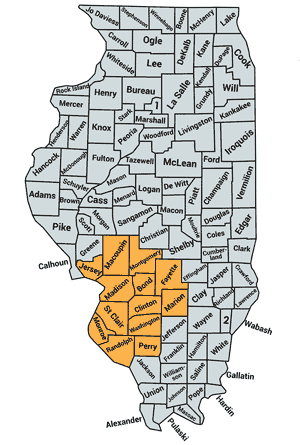 Bond

Clinton

Fayette

Jersey

Macoupin

Madison

Marion
Monroe

Montgomery

Perry

Randolph

St. Clair

Washington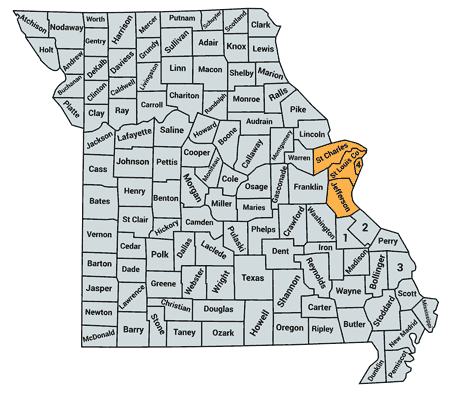 Looking for "stair lifts near me" – chances are you have come to the right place. We are the premier stair lift dealer in southern Illinois.
Options HME Stair Lifts has been providing stair lifts, wheelchair lifts, and patient lifts in the Illinois communities of Edwardsville, Highland, Collinsville, Belleville, Alton, Fairview Heights, Carlyle, O'Fallon, Greenville, Vandalia, and many surrounding communities since 2007. We also install lifts in the St. Louis area communities of Ladue, Chesterfield, Florissant, Hazelwood, Creve Coeur, Maryland Heights, and many nearby areas.
We offer some of the most dependable products on the market. However, they are mechanical devices and may need service from time to time. Therefore, we limit our service area to ensure that if your lift needs service, we can respond in a reasonable amount of time.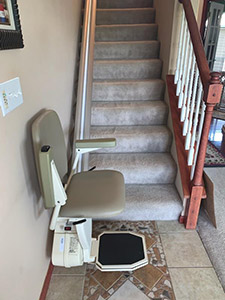 Highland is where Options HME Stair Lifts was opened in 2007, and we are still located in Highland today! It has served as an excellent place to establish and build our reputation as a trusted stair lift, wheelchair lift, and patient lift company.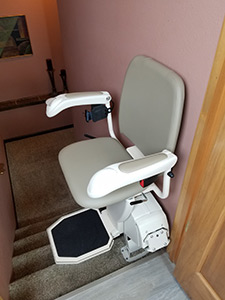 We enjoy serving our many customers in Edwardsville. The town has many beautiful homes that a stair lift works well in. After hours, we like to enjoy some of the great restaurants Edwardsville has to offer.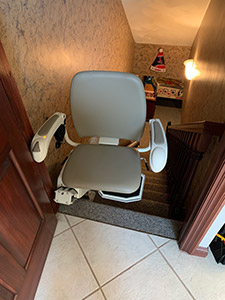 We are working in or passing through Collinsville on a nearly daily basis, and have installed many stair lifts in Collinsville over the past 16 years.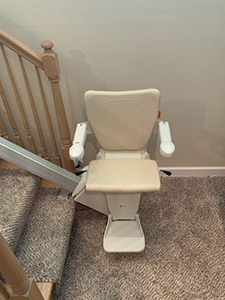 We have probably installed more stair lifts in Belleville than any other community in Southern Illinois. As it continues to grow, we hope we have the chance to serve even more Belleville customers!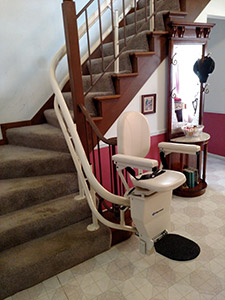 Many Granite City homes have basements, making them perfect candidates for a straight stair lift. We love working with the residents of Granite City to provide them better access to their homes.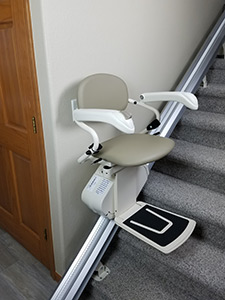 We love working in O'Fallon, because as it expands, many new homes are built. A lot of newer homes have wider staircases, making stair lifts a great solution for many homes in O'Fallon.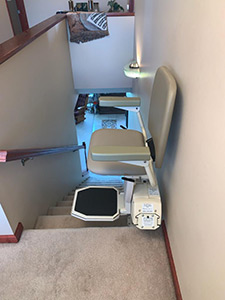 Fairview Heights seems to always be active and busy. That's why we love providing customers a safe and easy way to enter and exit their Fairview Heights home via a stair lift or wheelchair lift, so they can get out and enjoy all the town has to offer!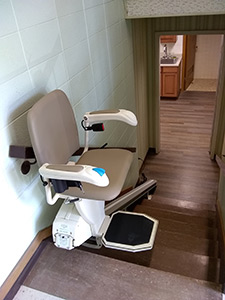 There are many unique homes in Alton. While some find installing a stair lift challenge, we carry the products necessary to find the best fit for your Alton, IL home.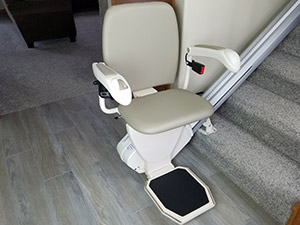 We are in St. Louis installing stair lifts and wheelchair lifts multiple times each week. All of the different communities within St. Louis have their own unique style of home.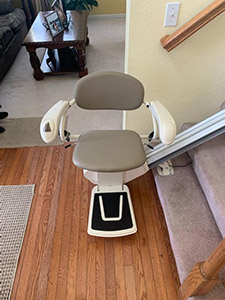 St. Charles has some beautiful older homes, mixed with plenty of new construction. Whatever the age of your home in St. Charles, we will work to find a lift that meets your needs.