Stair Lifts Jerseyville, IL
Stair Lifts · Wheelchair Lifts · Ramps
Are you considering moving out of your Jerseyville home because the stairs have become too difficult or dangerous to use? Options HME has 13 years of experience installing stair lifts in Jerseyville, helping people stay in the home they love. We are a local, family owned mobility company located in Highland, IL – 54 miles southeast of Jerseyville. We are in town on a weekly basis, and being local allows us to offer some of the quickest installations and service calls in the area. 
In addition to installing stair lifts, we also install wheelchair lifts and wheelchair ramps in Jerseyville. This means we can help you access any level of your home, indoors or outdoors. We have installed wheelchair lifts to help users access porches and decks. We also provide outdoor stair lifts, which allows you to to ride up or down your outdoor stairs, all while staying in working order even through the toughest weather. Curved stair lifts are little bit more specialized, as the rail is custom built to the home. While more expensive, a curved stair lift is able to handle curves, landings, and turns, all while remaining smooth and level. If you are interested in making all levels of your home safe and easily accessible again, contact us for a
free in-home consultation
.
One of the areas we believe to be most important is service to the customer. When we first hear from a customer, our service to them begins with a free in- home consultation. This gives us a chance to take measurements in your home and discuss with you the different options and costs. It also provides you the chance to ask one of our knowledgeable employees any questions you have. We continue our commitment to service by providing a 1 Year Expert Warranty on Labor on every stair lift, wheelchair lift, or wheelchair ramp we install in Jerseyville. We are happy to hear the comments our customers have after dealing with our factory trained technicians. James T. from Jerseyville says: "I can now get downstairs to my basement again. I enjoyed dealing with Jim and his son who did the install. Both of them were very friendly and answered all of the questions I had about the lift."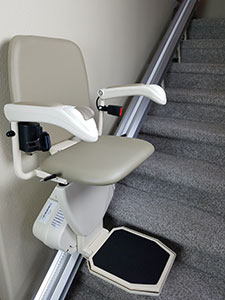 A question we often hear from Jerseyville residents is: "do you sell used stair lifts?" Jim Campbell, the owner of Options HME responds:
"We sure do! We sell quite a few used stair lifts. The used stair lifts we sell are all ones that we have purchased back from customers who no longer needed the lift. This way, we know the used stair lift has been installed and serviced correctly while they had it. The used stair lifts have been very popular lately, because they are considerably cheaper than a new stair lift. Our used stair lifts typically come with both parts and labor warranty."