Southern Illinois Stair Lifts
Stair Lifts · Wheelchair Lifts · Patient Lifts
Options HME Stair Lifts is the most trusted stair lift installation company located in Southern Illinois. We are located in Highland, IL but serve many communities in Southern IL, including Collinsville, Edwardsville, Belleville, Greenville, Carlyle, O'Fallon, and many others. Our focus is on providing you with the information and options necessary to pick a stair lift that fits your needs and your budget. Once you choose to have a stair lift installed, our experienced technicians provide a professional quality stair lift installation. Furthermore, we provide outstanding service after the sale, to keep your stair lift in top working order for years to come.
Have the stairs in your home become difficult or even impossible to climb or descend? We have the experience and expertise necessary to help you access all levels of your home. Options HME Stair Lifts has been installing and servicing stair lifts, wheelchair lifts, and patient lifts in Southern Illinois since 2007. Our installation specialists are both factory and field trained, in an effort to provide you with the highest quality install. We are located in Highland, Illinois, and have been since opening for business in 2007.
With 16 years of experience installing stair lifts in Illinois homes, we have the knowledge necessary to find and install the right lift for your needs. Some homes present unique challenges, such as narrow stairs, stairs with turns, or even outdoor stairs. We carry the equipment necessary to address each of these issues. Whether your home is many years old or the construction was finished yesterday, we can make it more accessible for you and your family. If you are looking for a stair lift for your Illinois home, please contact us for your free in-home consultation.
At Options HME Stair Lifts, we work to provide you with a sense of security, by standing behind all of the products we install, with a 1 Year Expert Warranty on Labor. This, paired with the manufacturer's warranty on parts, allows us to provide you with excellent service after the sale. In the event that you need service after the warranty is up, we will still be happy to provide you with the service you need. We are thankful for the outstanding feedback that our focus on customer service has earned. Jenny D. from Illinois writes: "Impressed with the quality of Options HME Stair Lifts' work. They were able to install a used stair lift that was within my budget. Stair lift works well and they were very helpful. I'll definitely recommend them!"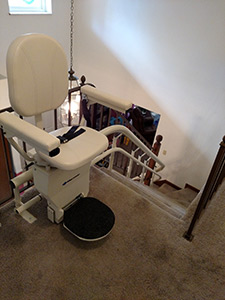 Below is a list of areas we serve in Southern Illinois. In general, our service area extends to within an hours drive of Highland, IL. If you are unsure if we serve your area, feel free to give us a call at (618) 310-0086 or fill out the contact us form.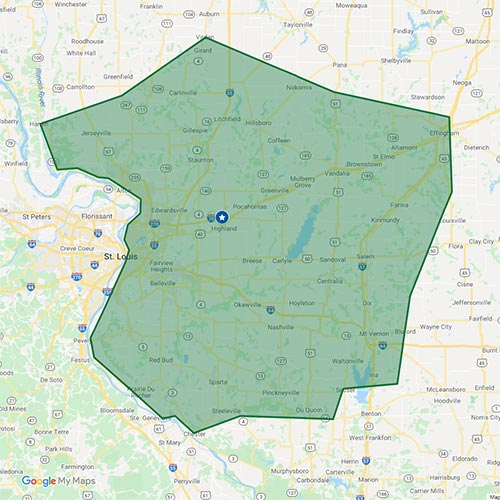 Communities Served in Southern Illinois:
Carlyle
Glen Carbon
Greenville
Lebanon
Maryville
Mascoutah
Many others!
A common question we receive from Illinois customers is "what stair lift is the best value?" Owner, Jim Campbell answers: "It really depends on the customer's needs. That is why we offer free in-home consultations, which allow us to sit down with the customer to discuss all of their options. For some customers who may only need the lift for a short time, a used or rental stair lift works well. For others who plan to use it for years to come, buying new is often the best choice because of the longer warranties." 
A little about us:
Owner Jim Campbell and his wife Tracy, along with their three children have lived in Illinois since 2000. An engineering job for Jim originally brought the Campbell family to Illinois from Ohio. In 2007 Jim was able to found Options HME Stair Lifts and pursue the enjoyment that he finds in helping people stay in the home they love.