Stair Lifts Edwardsville, IL
Stair Lifts · Wheelchair Lifts · Patient Lifts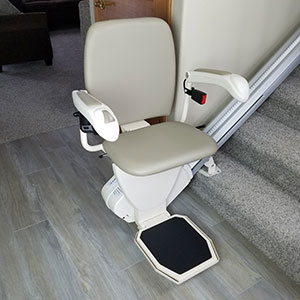 Stair lifts – often called chair lifts or stair chairs, make the stairs safer & easier.
Choose from new, used, or rental. We also handle curved & outdoor stair lifts.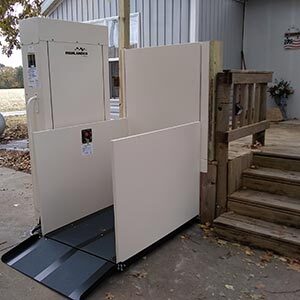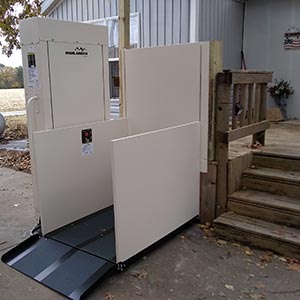 Wheelchair lifts are often referred to as platform lifts, vertical lifts, or VPLs.
Provide wheelchair access to a porch, deck, or raised entryway.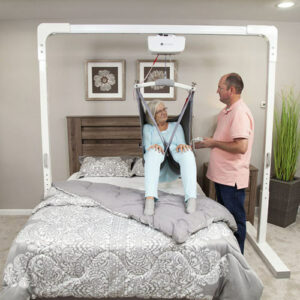 Patient lifts are designed to make transfers safe & easy.
Easily transfer between rooms, beds, wheelchairs, or other furniture.
Do you have a difficult time reaching a level of your home, deck, or porch? Options HME Stair Lifts has been installing stair lifts, wheelchair lifts, and patient lifts in Edwardsville since 2007. We are located just 17 miles away in Highland, IL and we are in the Edwardsville area on a daily basis. Our frequent visits mean that we can often provide same-day or next-day service and installation.
The city of Edwardsville continues to grow, and as it does, we are glad to constantly meet and help new customers with their mobility needs. Whether you live in Edwardsville, Glen Carbon, or Maryville, we can help you stay in the home you love. Some older homes in Edwardsville present special challenges, as they may have narrow, long, or steep staircases. Our 16 years of experience in stair lift, wheelchair lift and patient lift installation gives us the skills necessary to address the challenges specific to each individual home. So we have a better understanding of the needs of your home, we offer a free in-home consultation. This allows us to answer any questions or concerns you may have, and also provide you with the most accurate price estimate.
To be sure that you are satisfied with the stair lift installed in your Edwardsville home, we provide a 1 Year Expert Warranty on Labor on every product we install. Additionally, we only install products from manufacturers who also stand behind their products, giving you the confidence that your stair lift, wheelchair lift, or patient lift will be stood behind. We are thankful that our focus on customer service has earned us positive feedback, as John L. from Edwardsville states: "We chose a refurbished stair lift which was installed a week later in less than 2 hours and is working perfectly. The company will move the lift if we move within 50 miles at no cost. They will make us an offer to buy back the lift if we should no longer need it. They will also remove and replace the lift if we need a carpet replacement at no cost. The refurbished unit is one year old and cost significantly less than the new unit."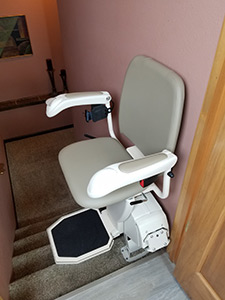 Often times our Edwardsville customers ask: "how much does a stair lift cost?" Jim Campbell, Options HME Stair Lifts owner responds: "The cost of a stair lift depends heavily on the application. For a regular straight stair lift, the cost is between $2,000 and $4,000, depending on the model and options chosen. If you are talking about a curved stair lift, the cost is greater because of the custom built rail, but it is often less costly than an elevator or moving to a new home."
A little about us:
Owner, Jim Campbell, along with his wife and three sons have always enjoyed all the Edwardsville area has to offer. The many restaurants, movie theater, and Bobby's Ice Cream have always been a favorite of the Campbell family.