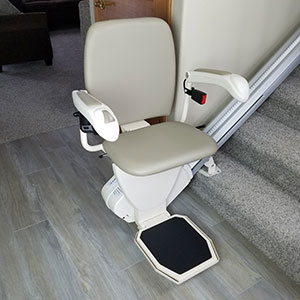 Most common type of stair lift, designed for stairs without turns or curves.
Choose from new, used, or rental. We offer straight stair lifts from American manufacturers.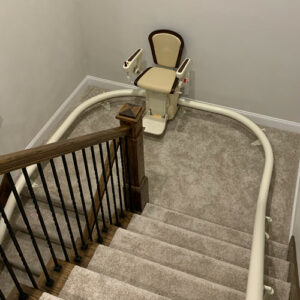 Curved stair lifts are designed for stairs with turns, curves, or landings.
Custom built curved rails provide you with a smooth ride and the best fit for your home.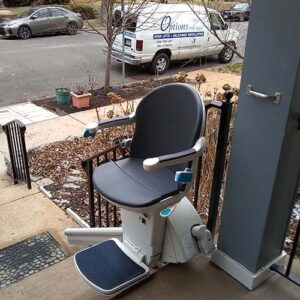 Designed for the elements. The perfect solution for a porch or deck.
Outdoor stair lifts provide accessibility options for your home's exterior. Available in straight or curved models.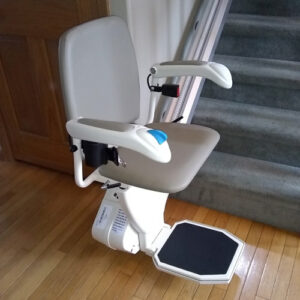 Used stair lifts offer the same great features at a lower price.
Every used stair lift is one that we have purchased from our previous customers. They undergo a thorough cleaning and inspection.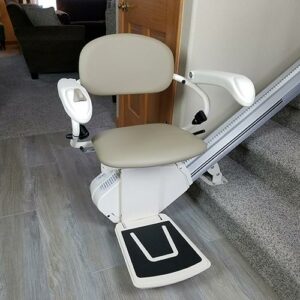 Great option for using the stairs while recovering from an injury or surgery.
Simple & affordable monthly stair lift rental. No long term contracts or removal fee.
Options HME - The Stair Lift Experts
Stair lifts are our specialty – we have been installing them since we opened for business in 2007 and have completed over 1500 stairlift installations in Southern Illinois and the St. Louis area.
We carry a variety of stair lift models, providing you the options necessary to choose a stairlift that fits your needs and your budget. Every stair lift we install is backed by a 1 year labor warranty. Additionally, after the 1 year warranty, we are still available to provide you stair lift service, with the option of purchasing another 1 year labor warranty or paying by hour.
The stairlifts we install also come with some of the best stair lift warranties on the market, including some models with a lifetime warranty on the motor, gears, and rail.
When choosing Options HME Stair Lifts, you can count on a professional stair lift installation from a local, family owned company with years of experience.
Stair Lifts - Frequently Asked Questions
How much does a stair lift cost?
The cost of a straight stair lift, including installation, is typically in the $2500 to $5500 range. However stair lift prices can vary depending on the layout of your staircase, weight of the user, which model you choose, and any options you choose to add to your lift. Curved stair lift prices typically start around $12,000.
Does Options HME install stair lifts near me?
Do you service stair lifts?
Yes, we will service any stair lift purchased from Options HME for as long as you own the lift, even long after the 1 year warranty on labor we provide.
What stair lift warranty do you offer?
We provide a 1 year labor warranty on every stair lift we install. The parts warranty ranges from 1 year up to lifetime coverage, depending on which model you choose. 
How much space do they take up in the stairs?
We carry the narrowest stair lift on the market, which can fold up to as little as 10.5″ from the wall. This means others have more space to use the stairs when the lift is not in use.
Does insurance cover stair lifts?
Where are your stair lifts made?
We work primarily with three manufacturers. Our Harmar stair lifts are Made in USA at Lake Winnebago, MO. Handicare manufacturers lifts in St. Louis, MO and Sweden. The UP Stairlifts we offer are built in the Netherlands.
Will my stair lift work if the power goes out?
Yes, every stair lift that we install is powered through the use of two 12 volt batteries. They will power the lift during a power outage. Some models, like the Harmar Pinnacle SL600 can make up to 60 trips on a single charge. When we install your stair lift, we plug the battery charger into a standard wall socket, meaning no additional wiring is necessary in the majority of homes. When the stair lift is parked, it charges the batteries so it will be ready for the next use.
Does a stair lift attach to the wall?
Nope! Our stair lifts do not attach to the wall or require any home modification. They attach directly to the treads of the steps & can be removed later with little evidence that a stair lift was ever installed.