Stair Lifts Litchfield, IL
Stair Lifts · Wheelchair Lifts · Patient Lifts
Stairs can become difficult to climb, especially with age or after surgery. At Options HME Stair Lifts, we have been installing stair lifts in Litchfield, IL for the past 16 years. A stair lift can make navigating the stairs safe and easy again, giving you the freedom you desire. We are located just 32 miles from Litchfield, in Highland, IL. Because we are a local, family owned company, we can offer short wait times for stair lift installation and prompt service when necessary.
Litchfield is a historic town, and lies alongside Historic Route 66. Many older homes are still lived in, so installing a stair lift in Litchfield can be a bit challenging at times. Our experienced technicians are always up for the challenge though, and come prepared with the right training and equipment. We can address narrow or steep stairs, as well as those with a door at the top. We want you to be able to stay in the home you love, so we will work to make your second floor, basement, deck, or porch accessible again. Along with stair lifts, we also install wheelchair lifts, and patient lifts. If you are interested in hearing more about how we can make your home accessible, please contact us for a free in-home consultation.
One of our top priorities is having a satisfied customer. A stair lift, wheelchair lift, or wheelchair ramp can be an important purchase, so we want to be sure we are there to help you along the way. We begin with a free, in-home consultation. We take measurements and discuss the different options for your home and answer any questions you may have. If you decide to have a stair lift, wheelchair lift, or patient lift installed in Litchfield, one of our factory trained installers will come out to complete the installation. They will also show you how to operate the lift safely, and answer any final questions you have. Finally, we stand behind our work with a 1 Year Expert Warranty on Labor. Our focus on service has led to many satisfied customers, like Larry H. from Litchfield: "I had Jim come out to install two stair lifts in my home, one to go upstairs and one to go to the basement. They have been really helpful for us, and we can get to our washer and dryer to do laundry again! I would say anyone who is looking for a stair lift should look up Options HME Stair Lifts."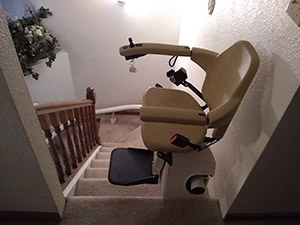 A question we often get from Litchfield residents is: "How does a stair lift work?" Options HME owner, Jim Campbell answers: "A stair lift consists of a seat, motor, and rail. The rail is mounted to the tread of the steps, while the motor and seat move along the rail. Most of the stair lifts available today are battery powered, and automatically charge when not in use. This means the lift will work, even if the power has gone out."
A little about us:
Jim Campbell, owner of Options HME Stair Lifts, and his family enjoy visiting Litchfield. Jim, his wife Tracy, and their three sons' favorite stop is the Skyview theater. It is one of the few drive-ins left around the area, so they all enjoy seeing a movie on the BIG screen!