Stair Lifts · Wheelchair Lifts · Patient Lifts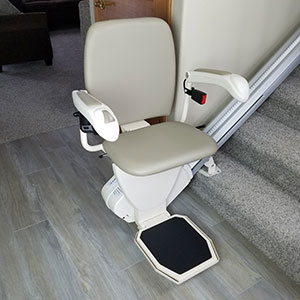 Stair lifts – often called chair lifts or stair chairs, make the stairs safer & easier.
Choose from new, used, or rental. We also handle curved & outdoor stair lifts.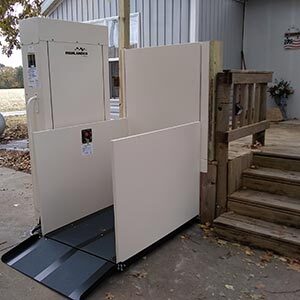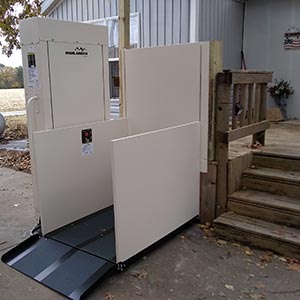 Wheelchair lifts are often referred to as platform lifts, vertical lifts, or VPLs.
Provide wheelchair access to a porch, deck, or raised entryway.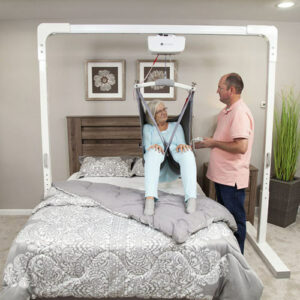 Patient lifts are designed to make transfers safe & easy.
Easily transfer between rooms, beds, wheelchairs, or other furniture.
Have the stairs in your O'Fallon, IL home become an obstacle? Options HME Stair Lifts sells and installs stair lifts in O'Fallon, giving you the freedom to access your upstairs bedroom, basement, deck, or porch with ease. Options HME Stair Lifts is located in Highland, IL, just 23 miles from O'Fallon. We are in the area multiple times each week, so we are able to schedule and perform installations quickly, usually within a week or less. Also, should you need service on your stair lift, our technicians drive trucks stocked with parts to offer you the fastest service possible.
O'Fallon is a fast growing community, meaning there are many newer homes in the area. Often, newer homes have wider staircases, making installing a stair lift an easy fit for your home. We also have experience installing lifts in older homes, which may present more of a challenge, but we have the equipment and expertise necessary to fit a stair lift in nearly any home. In addition to stair lifts, we also can install a wheelchair lift for your O'Fallon home. They provide a solution for a wheelchair user to access a porch or deck, or even provide an alternative to using the stairs inside the home. If you are interested in making all levels of your home accessible again, please reach out to request your free in-home estimate.
We stand behind every stair lift, wheelchair lift, and patient lift we install. Every product includes a 1 Year Expert Warranty on Labor, along with the manufacturer provided parts warranty. Each of our employees undergo both factory and field training in the installation and service of the products we provide. We work to stay up to date on the latest product changes and upgrades, in an effort to provide you the best service possible. We enjoy hearing from happy customers like Ann A. from O'Fallon: "I just had Options HME Stair Lifts stop out to service one of the stair lifts they installed for me. I wish that all service personnel that showed up to my home would be as kind, well dressed, and courteous as the service tech from Options HME Stair Lifts."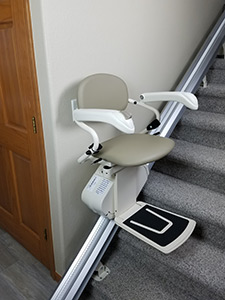 A question we often get from O'Fallon residents is: "what kinds of stair lifts do you install?" Owner of Options HME Stair Lifts, Jim Campbell responds: "we carry stair lifts to fit nearly every situation. Most homes call for a single straight stair lift to fit a straight flight of stairs indoors. If your home has a turn or multiple landings, we can install a curved stair lift. If you need to get up and down a set of stairs outside, we handle outdoor stair lifts. We also have options for different price ranges, which include new, used, and rental stair lifts."
A little about us:
Owner Jim Campbell and his family enjoy spending time in the O'Fallon area, at the many great places to shop and eat. While his wife, Tracy enjoys spending time in the St. Clair Square Mall in nearby Fairview Heights, his three sons enjoy Academy Sports and Dick's Sporting Goods.