Stair Lifts Collinsville, IL
Stair Lifts · Wheelchair Lifts · Patient Lifts
Considering purchasing a stair lift to make your Collinsville, IL home more accessible? Since 2007, Options HME Stair Lifts has been installing stair lifts, wheelchair lifts, and patient lifts in Collinsville, IL. With the town only 19 miles from Options HME Stair Lifts, it is a place that we visit and work in often. Since we are so close to Collinsville, we are able to provide estimates, installations, and service calls very quickly, as we pass through Collinsville on almost a daily basis.
The town has an interesting history, that includes Cahokia Mounds and the well known Brooks Catsup Bottle Water Tower. Collinsville, also has many older style homes that accompany it's interesting history. You may wonder if we are able to install a stair lift in older homes, and yes, it is something we do often! Whether you stairs are wide or narrow, long or short, straight or curved, we have a model that will most likely fit your home. To ensure that a stair lift will fit your Collinsville home, we offer free estimates where we take measurements and provide you a quote for the cost of a lift.
We stand behind every stair lift we install in Collinsville with a 1 Year Warranty on Labor. Additionally, your lift will come with a manufacturer's part warranty, to ensure that your lift stays in top working order for years to come. Should your stair lift need serviced, our technicians are in Collinsville multiple times each week. This allows us to provide you with quick and excellent service. We work hard to provide you with a great product and a professional installation. We enjoy hearing feedback from our wonderful customers, like Rob S. from Collinsville: "Jim was straightforward about the cost of a stair lift for my home. Once I chose to have the lift installed, Mitch was sent out and we had the stair lift installed less than a week later!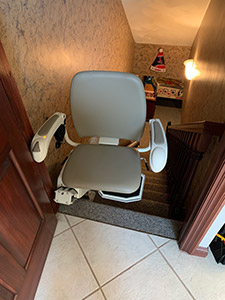 A question we often receive from Collinsville homeowners: "what if my stairs have a landing?" Owner of Options HME Stair Lifts, Jim Campbell, responds: "when your stairs have a landing, turn, or curve, the best solution is a curved stair lift. The rail for a curved stair lift is custom built to fit your unique staircase. This results in fewer joints and a smoother, more reliable ride than pieced together curved lifts that some online companies sell."
A little about us:
Options HME Stair Lifts is a family owned and operated company located in Highland, IL. We have been serving Collinsville since we opened in 2007. Jim started Options HME Stair Lifts because he enjoyed helping people stay in their own homes. Jim, his wife Tracy, and their three sons have all been to the Historical Cahokia Mounds site. It is neat to have such a historic site nearby.