Stair Lifts · Wheelchair Lifts · Patient Lifts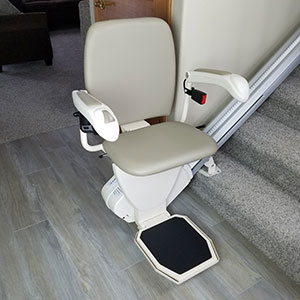 Stair lifts – often called chair lifts or stair chairs, make the stairs safer & easier.
Choose from new, used, or rental. We also handle curved & outdoor stair lifts.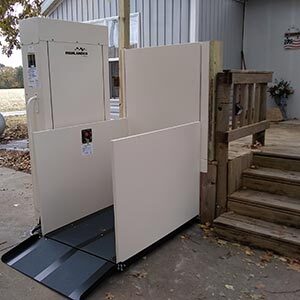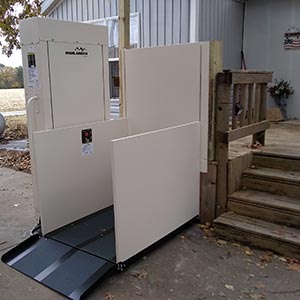 Wheelchair lifts are often referred to as platform lifts, vertical lifts, or VPLs.
Provide wheelchair access to a porch, deck, or raised entryway.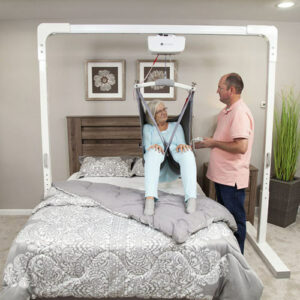 Patient lifts are designed to make transfers safe & easy.
Easily transfer between rooms, beds, wheelchairs, or other furniture.
Have the stairs in your Highland, IL home become an obstacle? We have been providing stair lifts, wheelchair lifts, and patient lifts in Highland for the last 16 years. Options HME Stair Lifts is located in Highland, at 713 5th Street. We enjoy servicing this area, as Options HME Stair Lifts owner, Jim Campbell, and his family have called the Highland area home for the past 22 years. It is wonderful to meet new people in the community or help out a family member of someone we already know. Being located right in town gives us the ability to offer you the fastest service possible, in many cases, we can be at your door within a few hours.
Highland is constantly growing, and as it does, the need for stair lifts, wheelchair lifts, and patient lifts grows as well. We have installed stair lifts in many of the duplex homes that are popular in Highland. We also enjoy working in some of the beautiful old farmhouses that surround Highland, and giving residents access to their upstairs or basement. Sometimes homes in the area present unique challenges, and require us to work with a narrow or extra long staircase. Fortunately we have many years of experience in finding the stair lift that best fits the needs of both you and your home. Our factory trained installers then provide a professional install, ensuring the best fit for your home. If you are interested in making your bedroom, basement, deck, or porch accessible again, please contact us for a free in-home consultation.
We want to make sure that your stair lift, wheelchair lift, or wheelchair ramp continues to work properly, long after the install. To do so, we provide a 1 Year Expert Warranty on Labor with every product we install, to be sure you are satisfied! We appreciate the praise that we receive from our customers, just like Ruth L. from Highland: "This chair has been a life saver for us that he installed. He installed it in May of 2014 and the lift continues to work great!"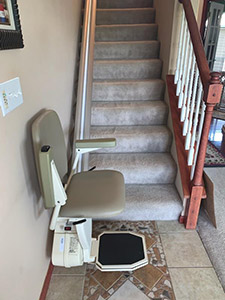 The residents of Highland often ask: "is a stair lift covered by medicare?" Options HME Stair Lifts owner, Jim Campbell, answers: "Unfortunately, medicare does not cover stair lifts. Medicare identifies a stair lift as a home modification, which is not covered under Medicare guidelines. We have had a few customers get help from a long term care plan, so check with your provider. The VA (Department of Veterans Affairs) does help cover the cost of a stair lift in some cases."
A little about us:
Options HME Stair Lifts is family run by Jim Campbell, his wife, and three sons. We have been located in Highland since we opened for business in 2007. The Campbell family enjoys all that Highland has to offer, especially the yearly celebrations of Schweizerfest and Kirchenfest.