Stair Lifts Centralia, IL
Stair Lifts · Wheelchair Lifts · Patient Lifts
Options HME Stair Lifts began serving the Centralia area in 2007. Over the past 16 years, we have enjoyed helping the residents of Centralia stay in the home they love. Our specialty is providing access to all levels of your home. We can address challenges provided by stairs leading to the second level, basements, porches, or decks, through the installation of a stair lift, wheelchair lift, or patient lift. We are located 48 miles from Centralia in Highland, IL, but our factory trained installation and service technicians are in the Centralia area on a weekly basis.
We are able to meet a variety of mobility needs, and provide you with the options that best fit both your situation and your budget. We provide new, used and rental options on many of our stair lifts, along with providing wheelchair lifts for those who would like to remain in their wheelchair. If you are interested, in a stair lift, wheelchair lift, or patient lift, check out the top of the line products we carry and set up a free in home consultation.
At Options HME Stair Lifts, we stand behind the products we sell and install. Every installation comes backed by our 1 Year Expert Warranty on Labor. Additionally, we only install products from manufacturers who also stand behind their products. Because of this, our customers have access to the best warranties on the market, like a limited lifetime warranty on the motor, gear, and rack on the Harmar Pinnacle SL600. We work hard to provide the highest level of customer service, and appreciate the feedback we receive from our customers. Charles K. from Centralia says: "Jim came out the day after I called. I had researched what I thought would do the job and he suggested the same thing. Because our house has split levels, the only good solution was to use two lifts. He quoted me a price witch seemed reasonable. He came out and installed them the following week. He did a good job which included drilling holes in the ceramic tile on one of the staircases which I am sure took a lot longer than he expected. The Harmar Pinnacle lifts have worked fine for the last 8 months and I expect they will last a long time."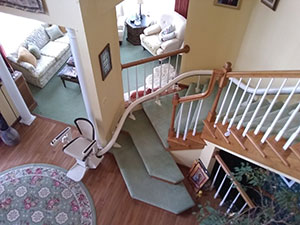 Centralia residents often ask us: "can you rent a stair lift?" Options HME Stair Lifts owner Jim Campbell responds: "You certainly can! We have developed a stair lift rental program that allows the customer to rent the stair lift for only as long as they need it. There are no long term contracts, and you are not obligated to a certain time period. It offers a perfect solution for someone needing a stair lift during rehab from surgery or during hospice care."
A little about us:
Owner, Jim Campbell, is the father of three sons. Each of them remember attending the Annual Centralia Hot Air Balloon Festival when they were younger. Also, Jim's oldest son enjoys fishing nearby Carlyle lake for largemouth and white bass.