Stair Lifts · Wheelchair Lifts · Patient Lifts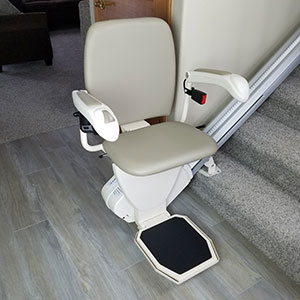 Stair lifts – often called chair lifts or stair chairs, make the stairs safer & easier.
Choose from new, used, or rental. We also handle curved & outdoor stair lifts.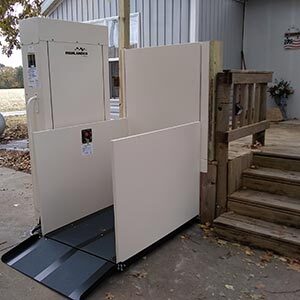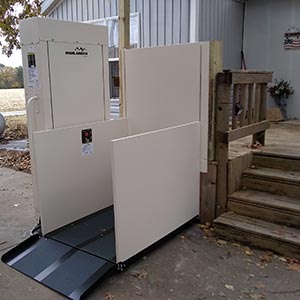 Wheelchair lifts are often referred to as platform lifts, vertical lifts, or VPLs.
Provide wheelchair access to a porch, deck, or raised entryway.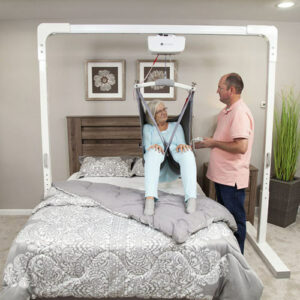 Patient lifts are designed to make transfers safe & easy.
Easily transfer between rooms, beds, wheelchairs, or other furniture.
Would you like your home in Vandalia, IL to be more accessible? We can make all levels of your home, including basements, upstairs bedrooms, decks, and porches, accessible again with a stair lift, wheelchair lift, or patient lift. Located right off Interstate 70, Vandalia plays host to many travelers passing through. At Options HME Stair Lifts, we are located 37 miles to the west, in Highland, IL. We travel to the Vandalia area on a weekly basis to service and install stair lifts.
The town of Vandalia has a lot of history behind it, meaning there are still many older homes still in use today. Older homes can present a unique challenge, as staircases may be extra long or steep. While it may make climbing the stairs a challenge, we carry the equipment necessary to make all levels of your home accessible via a stair lift or wheelchair lift. We carry stair lifts like the Harmar Pinnacle, the narrowest stair lift on the market, and can provide options such as rail extensions or even a folding rail to provide the best fit for your home. If you would like more information, we provide free, in-home estimates, to provide you with a better understanding of the product and a guaranteed price.
One of our most important goals is to maintain satisfied customers. Every stair lift, wheelchair lift, or patient lift that we install comes with our 1 Year Expert Warranty on Labor. Our factory trained installers and service technicians have years of experience working with the products we provide. We are not a franchise or chain company, and we keep our service area small in an effort to provide you with the highest level of customer service. Ronnie G. from Vandalia says "I had got estimates for a stair lift from a few different companies. I chose Options HME Stair Lifts because their attitude and willingness to answer my questions. Jim was very knowledgeable and provided a couple different options for my stairs. I liked that they were not pushy and gave me time to decide on my own."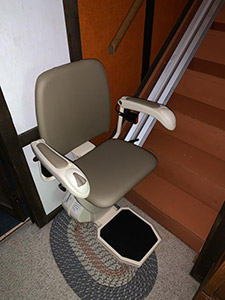 A common question asked by Vandalia residents is "will a stair lift fit in my home?" Options HME Stair Lifts owner, Jim Campbell responds: "We are able to make a stair lift fit into the vast majority of homes. We work to carry some of the most innovative stair lifts on the market in an effort to provide you with the best fit for your home. We have 16 years of experience dealing with narrow, steep, and long stairs, as well as turns, landings, or split level homes. We encourage our free estimate, as we will come out and take measurements to ensure we can fit a stair lift to your home, before you commit to buying."
A little about us:
Prior to founding Options HME, owner Jim Campbell spent 6 years working for a major manufacturer as a mechanical engineer in Vandalia. He is familiar with area and enjoys frequent visits to the town to help out current customers and meet new ones. Jim, along with his wife and three sons, enjoy spending a day on the water fishing and swimming at Vandalia Lake, when they get a chance.