Stair Lifts Granite City, IL
Stair Lifts · Wheelchair Lifts · Patient Lifts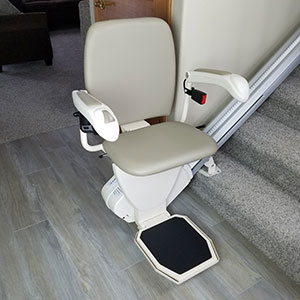 Stair lifts – often called chair lifts or stair chairs, make the stairs safer & easier.
Choose from new, used, or rental. We also handle curved & outdoor stair lifts.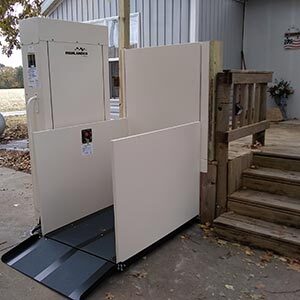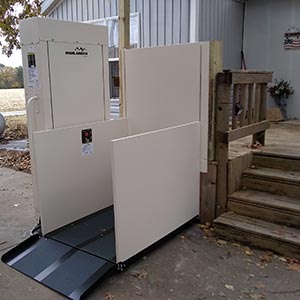 Wheelchair lifts are often referred to as platform lifts, vertical lifts, or VPLs.
Provide wheelchair access to a porch, deck, or raised entryway.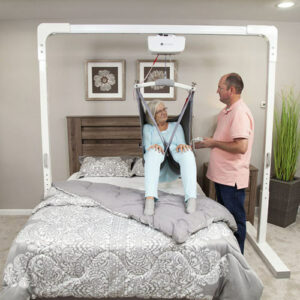 Patient lifts are designed to make transfers safe & easy.
Easily transfer between rooms, beds, wheelchairs, or other furniture.
As you age, sometimes the stairs in your home can become an obstacle, or even a falling risk. We install stair lifts in Granite City, helping you make all levels of your home accessible again. Options HME Stair Lifts is a local, family owned company, located in Highland, IL. Being located just 31 miles from Granite City allows us to provide you with quick installation and service. We are typically in the area multiple times each week. In addition to installing stair lifts, we can also install a wheelchair lift or ramp in Granite City.
From our experience working with the residents of Granite City, we have noticed that many of the homes have the washer and dryer located in the basement. Unfortunately, if you have a tough time with stairs, it can make doing laundry that much more difficult. We have 16 years of experience outfitting basement stairs with stair lifts in Granite City. In some homes, bedrooms may be located on the second floor, meaning you have to use the stairs to get up to your bedroom or downstairs to the kitchen or living room. A stair lift or wheelchair lift can make any level of your home accessible again. Contact us for your free in-home consultation!
We place your satisfaction at the top of our list. Each of our installation and service technicians are both factory and field trained to provide you the highest level of professional service. Every stair lift, wheelchair lift, or wheelchair ramp that we install comes with our 1 Year Expert Warranty on Labor. One of the best thank you's we can receive from our customers is a referral of a new customer, so we work to ensure your lift is working properly, long after the installation. We also appreciate the kind reviews we receive from our customers, like this one from John D. in Granite City: "Options HME Stair Lifts provides medical equipment. I like his professionalism. I like his approach. When he came out to the house, he explained everything and he provided a demonstration. The big thing that came out over the other stair lifts, is his equipment had an 11 inch step and the most stair lifts have a 14 inch step. Also, it was his personality that worked for me. Plus his product sits in my stairwell better. It took about three hours to install. I was very satisfied."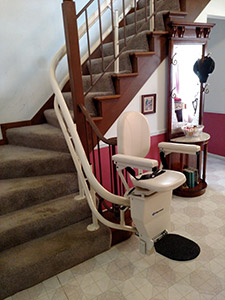 The residents of Granite City often wonder: "Can I use my stair lift to send up laundry or groceries?" Owner of Options HME Stair Lifts, Jim Campbell, responds: "many of our customers use their stair lift as a means of sending laundry, groceries, or other items up and down the stairs. Each of the lifts we install come with a set of remotes, which allows the lift to be operated without someone sitting on it. Then you can just have one person on each end to load and unload the cargo!"