Stair Lifts · Wheelchair Lifts · Patient Lifts
St. Louis has trusted Options HME Stair Lifts with stair lift installations for the past 16 years. In addition to serving St. Louis, we also serve the surrounding Missouri communities of Chesterfield, St. Charles, Ladue, Florissant, Maryland Heights, and many others. We focus our efforts on giving you the option to stay in the home you love. Our experienced technicians are trained to install a number of different stair lift models, giving you the freedom to choose which model works best for your home and your budget. Additionally, we provide you with piece of mind by backing our work with an Expert Warranty on Labor. If you have any questions about a stair lift or wheelchair lift, feel free to give us a call or schedule a free, in-home estimate.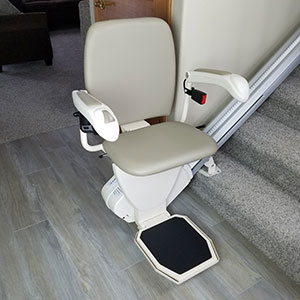 Stair lifts – often called chair lifts or stair chairs, make the stairs safer & easier.
Choose from new, used, or rental. We also handle curved & outdoor stair lifts.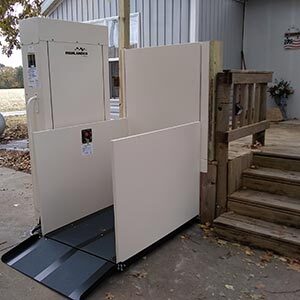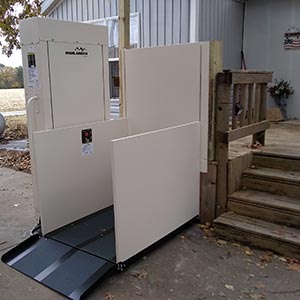 Wheelchair lifts are often referred to as platform lifts, vertical lifts, or VPLs.
Provide wheelchair access to a porch, deck, or raised entryway.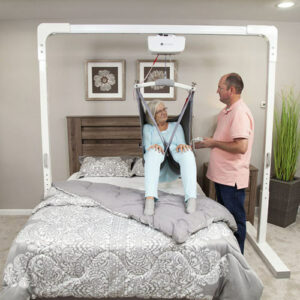 Patient lifts are designed to make transfers safe & easy.
Easily transfer between rooms, beds, wheelchairs, or other furniture.
Are you hoping to stay in the St. Louis home that you love? A stair lift or wheelchair lift from Options HME Stair Lifts can help you stay in your own home by making stairs less of an obstacle. We are a local, family owned company and have been installing stair lifts in St. Louis since 2007. We are located just 33 miles from downtown St. Louis, in Highland, IL. We service the greater St. Louis area, so we are on the Missouri side of the river on a daily basis.
In many St. Louis homes, washers and dryers may be located in the basement, while bedrooms may be on the second floor. If stairs are difficult for you to navigate, they present an obstacle to staying in your home. A stair lift or wheelchair lift may be the perfect solution for your St. Louis home. We carry a variety of stair lifts, wheelchair lifts, and patient lifts, so we are able to provide you with a solution that fits both the needs of your home and your budget. We have the products necessary to accommodate straight stairs, curved stairs, as well as stairs with turns or landings. Whether you need a straight stair lift, curved stair lift, or even an outdoor stair lift, we can discuss the options during a free in-home estimate.
Word of mouth is one of our largest sources of new customers. To uphold our reputation with our customers and ensure your satisfaction, every stair lift, wheelchair lift, or wheelchair ramp that we install comes with a 1 Year Expert Warranty on Labor. Additionally, we only work with manufacturers who provide strong parts warranties, to be sure that your stair lift continues to work properly long after the installation. We are thankful to hear feedback from satisfied customers like Bill W. from St. Louis: "Jim Campbell, owner, is a pleasure to do business with. He's professional and friendly at the same time. He explained everything to my satisfaction. He sent his son to do the installation, and he was equally professional and friendly. He too explained everything before and after the installation. He did a good cleanup after he was through."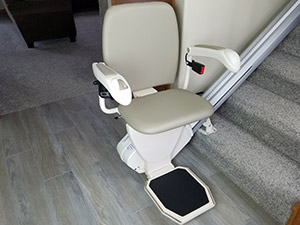 Below is a map and list of areas we provide stair lift installation in the St. Louis Area. If you are unsure if we serve your area, feel free to give us a call at (636) 489-0055 or fill out the contact us form.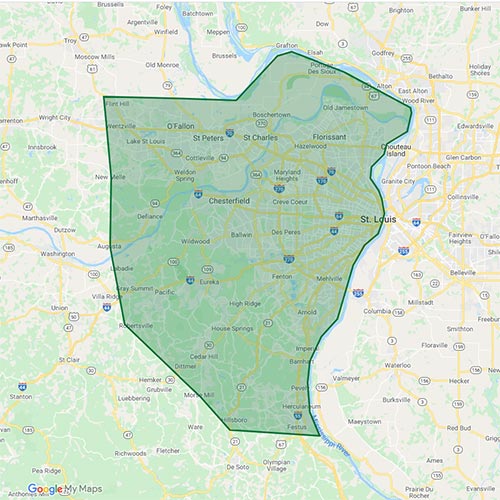 Communities Served in The St. Louis Area:
St. Louis
Chesterfield
Ladue
Maryland Heights
Hazelwood
Creve Coeur
Overland
Florissant
University City
And many others!
We receive many questions from our customers, but St. Louis residents often wonder "will a stair lift fit in my house?" Options HME Stair Lifts owner, Jim Campbell, responds: "we can fit a stair lift to nearly any home. Each home presents unique challenges, but with 16 years of St. Louis stair lift installation experience, we know what changes need to be made to the lift to provide you with the best fit. During a free in-home estimate, we can discuss the different options you have and then provide you with an accurate price estimate."
A little about us:
Owner Jim Campbell's family has a strong tie to the St. Louis area. Jim's wife, Tracy, works for one of the major St. Louis area hospitals, and has experience in both home care and orthopedics. This gives us a little better insight into the medical needs of some of our customers, and helps us provide and even higher level of service!