Your Local Stair Lift Dealer Since 2007
16 Years of Experience Installing Stair Lifts in Alton, IL
Options HME has been installing stair lifts in Alton since 2007. Stair lifts are our specialty and we have worked with many customers to make their home more accessible. We are a locally owned family company and we use that advantage to offer timely estimates and quality installations that national companies struggle to match.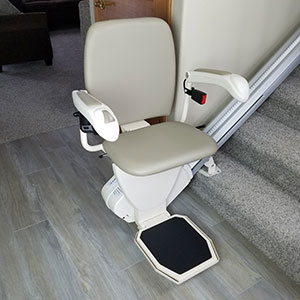 Designed to make accessing your basement or second floor safe & easy.
Built for a straight flight of stairs & folds up narrowly against the wall to maximize space in the stairway. *Our top selling stair lift in Alton, IL.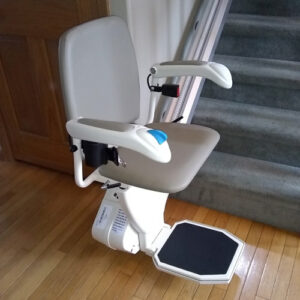 Used stair lifts offer the same great benefits, at a lower cost!
Every used stair lift undergoes a 35-point inspection and is backed by a 1 year parts & labor warranty. An top-notch choice for the basement garages that are popular in Alton.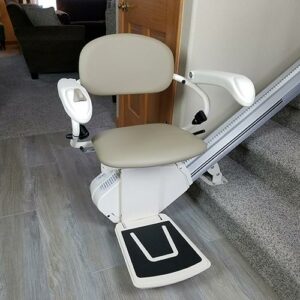 An excellent short term solution while recovering from an injury or surgery.
Our stair lift rental is simple and affordable. No long term contracts, just an easy monthly payment.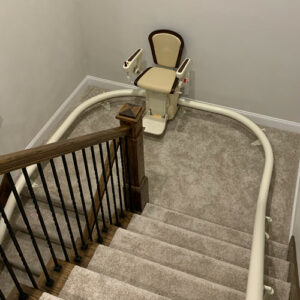 Custom built for a perfect fit on your stairs with a turn, landing, or curve.
Curved stair lifts provide a comfortable, uninterrupted ride along the full length of your stairway.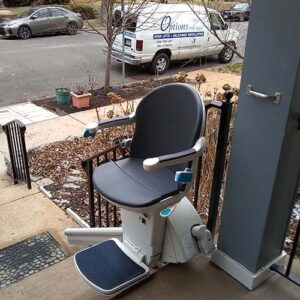 The perfect solution for your porch or deck. Designed to handle the elements.
Outdoor stair lifts provide accessibility options for your home's exterior. Straight and curved models are available.
We believe our reputation with the customers we serve is important. That is why we offer a 1 year labor warranty on every stair lift we install. Additionally, your lift will come with the manufacturer's parts warranty with some models offering lifetime coverage. Whether your lift needs service tomorrow or 5 years from now, we will be available to offer quick & excellent service. 
Alton, IL Stair Lift FAQs
Is Options HME a stair lift dealer near me?
Yes! Options HME is located in nearby Highland, IL. We are in Alton multiple times each week, so we would be happy to stop by and provide you with a free, in-home estimate.
Do you install stair lifts elsewhere?
We do, but we keep our service area relatively small, so we can respond to our customers in a timely manner. Our service area includes the greater St. Louis area and most of Southern Illinois.
Do you service stair lifts?
Yes, we will service any stair lift purchased from Options HME for as long as you own the lift, even long after the 1 year warranty on labor we provide.
What is the most popular stair lift in Alton?
In our experience, many of the homes in Alton are single story with a basement. That makes the Harmar Pinnacle SL600 straight stair lift a great candidate. It is capable of carrying up to 350 lbs and has a limited lifetime warranty on the drivetrain. Since we keep the SL600 in stock and we are located nearby, we can typically have one installed in your home quickly!
Where are your stair lifts made?
We work primarily with three manufacturers. Harmar is an American  manufacturer, building lifts in Lake Winnebago, MO. Handicare manufacturers lifts in St. Louis, MO and Sweden. The UP Stairlifts we offer are built in the Netherlands.
What do we enjoy in Alton, IL?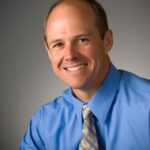 Options HME Business Owner: Jim Campbell – "I really enjoy spending time at the outstanding wineries that the Alton and Grafton area have to offer. The Winery at Aerie's Resort has to be my favorite with its outlook over the Mississippi River."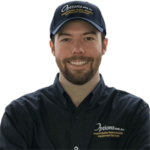 Options HME Business Development Manager: Shane Campbell – "I think the Great River Road is such a neat drive. I really enjoy driving it with the windows down on a warm fall day as the leaves are changing!"