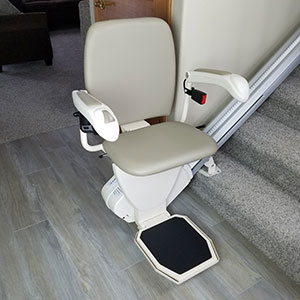 Stair lifts – often called chair lifts or stair chairs, make the stairs safer & easier.
Choose from new, used, or rental. We also handle curved & outdoor stair lifts.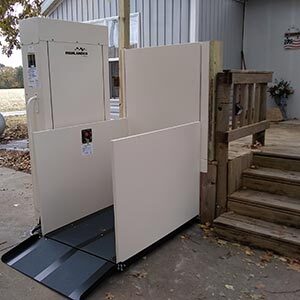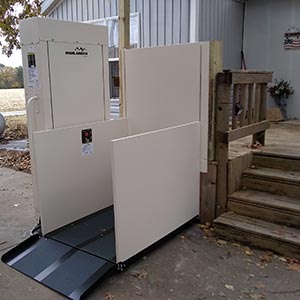 Wheelchair lifts are often referred to as platform lifts, vertical lifts, or VPLs.
Provide wheelchair access to a porch, deck, or raised entryway.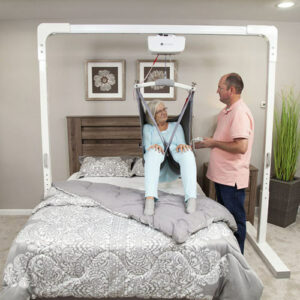 Patient lifts are designed to make transfers safe & easy.
Easily transfer between rooms, beds, wheelchairs, or other furniture.
Have the stairs in your home become difficult or even impossible to climb or descend? We have the experience and expertise necessary to help you access all levels of your home. Options HME Stair Lifts has been installing and servicing stair lifts, wheelchair lifts, and patient lifts in Alton, IL since 2007. Our installation specialists are both factory and field trained, in an effort to provide you with the highest quality install. We are located just over 30 miles southeast in Highland, IL, but are in the Alton area on a weekly basis.
Alton homes can provide a special challenge when installing a stair lift, wheelchair lift, or patient lift. Many of the homes are built on a hill, so stairways may be longer or steeper than normal. Our 16 years of installation experience in Alton allows us to effectively address these challenges. We stock the equipment necessary to handle longer than normal staircases, as well as steep inclines. In addition, many homes in Alton have the garage positioned underneath the rest of the home. This often means a stair lift from the garage to the living quarters is necessary, and we have successfully completed many installs in the same situation. If you are looking for a stair lift for your Alton home, please contact us for your free in-home consultation.
At Options HME Stair Lifts, we work to provide you with a sense of security, by standing behind all of the products we install, with a 1 Year Expert Warranty on Labor. This, paired with the manufacturer's warranty on parts, allows us to provide you with excellent service after the sale. In the event that you need service after the warranty is up, we will still be happy to provide you with the service you need. We are thankful for the outstanding feedback that our focus on customer service has earned. Jerry D. from Alton writes: "Very professional. The cost was quite in line as compared to other companies and their company did not have a high pressure sales tactic. Easy to work with and I would certainly recommend them to anyone."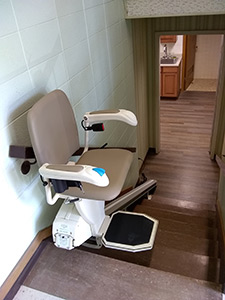 A common question we receive from Alton customers is "do you only install stair lifts?" Owner, Jim Campbell answers: "though the majority of what we install in Alton are stair lifts, we also install wheelchair lifts and wheelchair ramps. While a stairlift allows someone to ride up the stairs in a seat attached to the lift, a wheelchair lift allows the user to travel, without ever leaving their wheelchair. The same is true for a wheelchair ramp." 
A little about us:
Owner Jim Campbell and his wife Tracy enjoy visiting the many wineries that Alton has to offer. One of their favorites is The Winery at Aerie's Resort, which offers a beautiful outlook over the Mississippi River.