Stair Lifts Wood River, IL
Stair Lifts · Wheelchair Lifts · Patient Lifts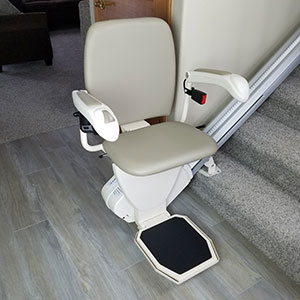 Stair lifts – often called chair lifts or stair chairs, make the stairs safer & easier.
Choose from new, used, or rental. We also handle curved & outdoor stair lifts.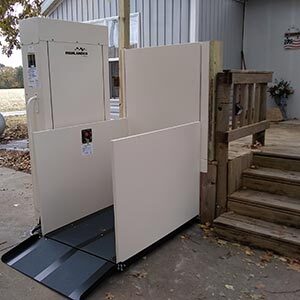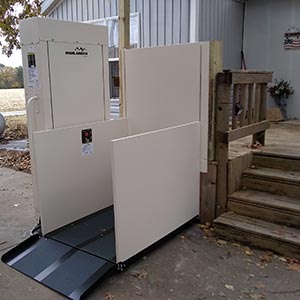 Wheelchair lifts are often referred to as platform lifts, vertical lifts, or VPLs.
Provide wheelchair access to a porch, deck, or raised entryway.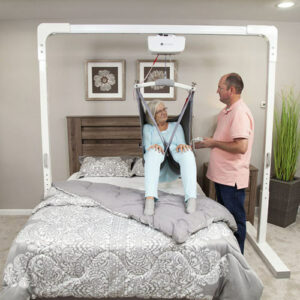 Patient lifts are designed to make transfers safe & easy.
Easily transfer between rooms, beds, wheelchairs, or other furniture.
Has living in your Wood River, IL home become a challenge lately because you have a difficult time climbing stairs? A stair lift may be the solution you are looking for. Options HME Stair Lifts is a local and family owned company that has been installing stair lifts in Wood River for the past 16 years. We are located 31 miles west of Wood River, in Highland, IL. We are typically in town at least once a week if not more often. Our local location allows us to provide you with the quickest service possible.
Each home in Wood River presents its own mobility challenges. Some homes have stairs leading from the basement to the main level, and others have stairs leading from the main level up to the second floor where bedrooms may be located. Whether your stairs are narrow and steep or gradual and wide, we have the stair lift equipment necessary to make your Wood River home accessible again. In addition to stair lifts, we also can provide wheelchair lifts and patient lifts, which provide access to porches, decks, bathrooms, and bedrooms. If you are interested in making every level of your home accessible again, please contact us to set up a free, in-home consultation.
Our 1 Year Expert Warranty on Labor is a guarantee we provide with each stair lift, wheelchair lift, and wheelchair ramp that we provide. We want to be sure that your lift continues to work properly, long after the installation. Our installation and service technicians are factory and field trained, so they can provide you with a professional installation that best fits your home. We have completed many projects in the Wood River area, leading to many satisfied customers, like Claudia T. from Wood River: "My laundry is in the basement, but after a fall, I did not feel safe going down the stairs anymore. The stair lift that Jim and his son installed for me made it safe and easy to use the stairs again. I can even use it to send the laundry basket up and down."
We are often asked by the residents of Wood River: "Can I install a stair lift myself?" Owner of Options HME Stair Lifts, Jim Campbell answers: "While you may be able to install a stair lift yourself, most would not recommend it. There are a lot of moving parts, as well as many adjustments that need to be made to fit a stair lift into each individual home. Our installation technicians install multiple stair lifts every week, and have been doing so for years. We will make sure your lift is installed per the manufacturer's specifications, and test it to make sure everything is functioning properly."