Stair Lifts · Wheelchair Lifts · Patient Lifts
Does your home in Waterloo, IL have stairs that have become difficult to climb? We have been installing stair lifts in Waterloo for the past 15 years. Options HME Stair Lifts is a local, family owned mobility company that has been in business since 2007. We are located 53 miles from Waterloo, in Highland, IL. In addition to stair lifts, we also install wheelchair lifts and patient lifts. Since we are local and focus on a relatively small service area, we are typically able to do a stair lift install in a week or less. We offer the same promptness with our service, to ensure your stair lift is always working well.
With all of the history in Waterloo, there are some beautiful older homes still in use. While older homes can present a challenge when installing a stair lift, wheelchair lift, or patient lift, our experienced technicians are able to make changes to the lift as needed to fit your home. There are also some newer neighborhoods in Waterloo, and installing a stair lift in a new home typically presents fewer challenges. We have the equipment and expertise necessary to handle a door at the top or bottom, narrow stairs, or stairs with turns or curves. We are also able to address more than just stairs inside the home, as we have outdoor stair lifts and wheelchair lifts designed to be installed for access to decks or porches.
While there are other stair lift companies out there, few are as local and willing to provide the level of personal service that we do at Options HME Stair Lifts. We work to make sure you are a satisfied customer from beginning to end. It starts with our no obligation, free in-home estimate, and after the installation, we back everything up with our 1 Year Expert Warranty on Labor. Our focus on the customer has led to many satisfied customers in the Waterloo area, just like Judy A. from Waterloo "After my husband had knee surgery, we needed a way to get him upstairs to the bedroom. His therapist recommended a stair lift. We went with Options HME Stair Lifts because they offered a short term stair lift rental program. It was much more affordable than purchasing the lift for the few months we needed it."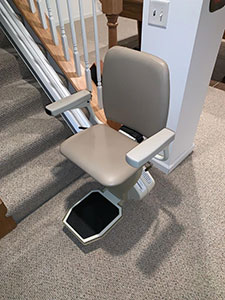 A question we have had from Waterloo Residents in the past is "what brand is best?" With many brands to choose from, like Acorn Stairlifts, Harmar Stair Lifts, Stannah Stair Lifts, Bruno Stair Lifts, Handicare Stair Lifts, and others, Owner Jim Campbell responds: "We carry a couple different brands of stair lifts. We have chosen to carry the brands we do for two main reasons. We look for a quality product and a company that is willing to stand behind that product. Innovative designs, features, and strong warranties are all things that we consider."