Stair Lifts St. Charles, MO
Stair Lifts · Wheelchair Lifts · Patient Lifts
Own a home in St. Charles and looking for a stair lift? Options HME Stair Lifts has been installing stair lifts in St. Charles for the past 16 years. We are located 49 miles from St. Charles, and are in the area multiple times each week.
Throughout the last 16 years, we have worked in many different homes, from historic old homes, to those recently built new. Whatever the age of your house, we can most likely make a stair lift work in your home. Our experience has allowed us to identify which models work best in certain types of staircases. The Harmar Pinnacle SL600 is our most popular selling stair lift, and we offer it as new, used, or rental. If your St. Charles home has a set of stairs on the exterior, we can install an outdoor stair lift.
We work to keep our customers satisfied by backing the manufacturer's parts warranty with a 1 Year Warranty on Labor. This gives you the piece of mind that should any problems arise, we will address them promptly. We are thankful for the many St. Charles stair lift customers that we have worked with over the years, and love to hear feedback, like Kevin T. from St. Charles: "Options HME Stair Lifts has been great to work with. They installed a stair lift for my father and he is now able to get to his basement safely."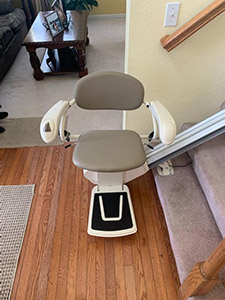 We often get questions from St. Charles residents about "how much space does a stair lift take up?" Options HME Stair Lifts owner, Jim Campbell, responds "how much space a stair lift takes up depends on your staircase, the model of the stair lift, and whether it is properly installed. We offer the narrowest stair lift on the market and our technicians are trained by the manufacturer on how to install the lift properly. This will give you the best fit possible and take up the least amount of space in your stairway."
A little about us:
Options HME Stair Lifts is a family run business that was founded by Jim Campbell in 2007. Jim and two of his sons, Shane and Mitch, enjoy stopping in the Bass Pro Shops located in St. Charles, as they enjoy hunting and fishing in their off time. Jim's wife, Tracy, and their third son, Steven enjoy the shops on Historic Main Street.