Stair Lifts Fairview Heights, IL
Stair Lifts · Wheelchair Lifts · Patient Lifts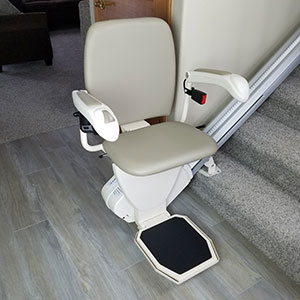 Stair lifts – often called chair lifts or stair chairs, make the stairs safer & easier.
Choose from new, used, or rental. We also handle curved & outdoor stair lifts.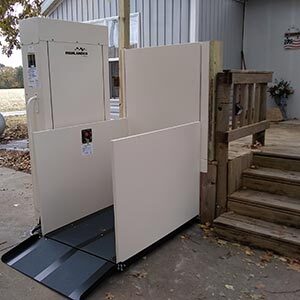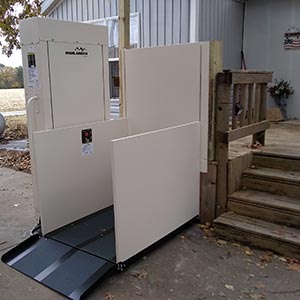 Wheelchair lifts are often referred to as platform lifts, vertical lifts, or VPLs.
Provide wheelchair access to a porch, deck, or raised entryway.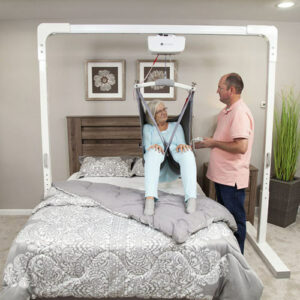 Patient lifts are designed to make transfers safe & easy.
Easily transfer between rooms, beds, wheelchairs, or other furniture.
Considering a stair lift for your Fairview Heights home? Options HME Stair Lifts has 16 years of experience installing stair lifts in Fairview Heights. We also install wheelchair lifts and patient lifts in the community too. Many of the neighborhood homes in Fairview Heights have basements. While the basements are an excellent addition, the stairs leading to the basement can become a challenge. With Options HME Stair Lifts located just 26 miles away in Highland, IL, we can provide estimates, installations, and service very quickly!
If your home has a basement, you may be wondering which type of stair lift works best. In the majority of cases, a straight stair lift is the perfect solution. They are designed for a single straight set of stairs. We have installed many straight stair lifts in Fairview Heights over the past 16 years. If your staircase has a landing, turn, or curve, we carry the lifts to fit those stairways as well.
Regardless of what type of stair lift you need, you can be sure that we will stand behind the product we install. Every lift is backed by our 1 Year Labor Warranty, and the manufacturer's parts warranty. Since we are a local company, rather than out of state, should your stair lift ever need service or maintenance, we can provide prompt service. This has led to some wonderful words by our great customers, like Bill K. from Fairview Heights: "My wife and I purchased a Harmar Stair Lift from Options HME Stair Lifts. They were great to work with, and when we needed something adjusted a while after the install, they came right out!"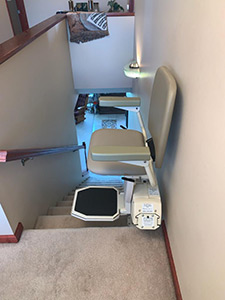 We are often asked by Fairview Heights residents: "do you sell used stair lifts?" Owner, Jim Campbell responds: "yes, Options HME Stair Lifts has used stair lifts. The used stair lifts we sell are only lifts that we have purchased back from our existing customers after they no longer needed them. This ensures that the lift was installed and maintained properly by the first owner. Every used stair lift we sell undergoes a 35 point inspection to be sure that it is in top working order."
A little about us:
Options HME Stair Lifts was founded in 2007 by Jim Campbell. Jim and his family own and operate the business. One of their favorite things to do in Fairview Heights is visit the St. Clair Square Mall. It offers many stores and shops that can't be found elsewhere in Southern Illinois.