Stair Lifts · Wheelchair Lifts · Patient Lifts
Have stairs in your house made it difficult to stay in the home that you love? We have been installing stair lifts in Sparta since 2007. Our goal at Options HME Stair Lifts is to keep you in the home that you love. We are a local, family owned company located in Highland, IL, just 54 miles from Sparta. We are usually in the area on a weekly basis, meeting a new customer or helping out an existing one! Since we are local and family owned, we are able to provide short wait times for an installation and even quicker service calls.
We have installed many stair lifts in Sparta, and each home presents a different challenge. Our factory and field trained technicians have years of experience installing in a variety of different homes, so they come prepared to handle any situation. We are sure to bring the right equipment because, before we do an installation, we provide you with a free, in-home consultation. This allows us to take measurements and answer any questions you may have. We also install wheelchair lifts as well as patient lifts. A wheelchair lift is a great solution to access a porch, deck, or raised entryway. It allows the user to maneuver without having to leave their wheelchair.
A satisfied customer is one of our most valuable assets. We make every effort to serve you, and ensure that your stair lift is working long after the purchase. Every stair lift, wheelchair lift, and patient lift that we install is backed up by our 1 Year Expert Warranty on Labor. Additionally we work with top manufacturers that provide industry leading warranties on parts. Our dedication to service has led to many satisfied customers, like Jeremy B. from Sparta: "We had Jim come look at the stairs in our Sparta, IL home. He suggested a few different options, we thought the used stair lift would be best for us. His son did the install later that week, and now our stair lift is working great!"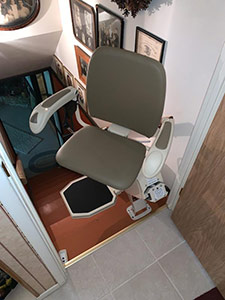 One question commonly asked by our Sparta customers is: "will you still service the lift after the warranty is up?" Jim Campbell, owner of Options HME Stair Lifts responds: "Yes. We will continue to service your stair lift, wheelchair lift, or wheelchair ramp long after the warranty on labor has expired. We work to keep our service affordable by giving our customers the choice between purchasing an additional labor warranty, or paying by hour. Many companies will collect the big check for the installation, but can be hard to get to return to service the lift. We will always be available to service your lift."
A little about us:
Sparta is home to the World Shooting Complex. While Owner Jim Campbell and his sons have not shot at that range specifically, they have competed in multiple rifle and pistol matches. The National Rifle Matches held at Camp Perry is one of their favorites.