Stair Lifts · Wheelchair Lifts · Patient Lifts
Have the stairs in your Columbia, IL home become difficult to climb lately? For the past 16 years, we have been installing stair lifts in Columbia, making stairs safe and easy to use again. Columbia sits 41 miles from Option HME Stair Lifts, which is located in Highland, IL. We are in the area on a weekly basis, meeting new customers or helping out current ones! Our close proximity to Columbia allows us to provide short waits for installs and quick service. While some out of state companies will travel hours to complete the installation, it can be difficult to get them to return when service is necessary. This is not the case with us. We began a local company and intend to keep it that way.
As Columbia continues to grow, there are many new homes being built alongside the existing older homes. We have both the experience and equipment necessary to install a stair lift, wheelchair lift, or patient lift in your Columbia home, no matter the age. We can address home specific needs, such as a door at the top of the steps, narrow or steep stairs, and even a turn or landing. If you would like more information about making your stairs accessible again, please contact us to set up a free in-home estimate.
We view your satisfaction as a top priority. To ensure that your stair lift, wheelchair lift, or patient lift continues to work properly, we provide a 1 Year Expert Warranty on Labor on each product we install. Our installation and service technicians are both factory and field trained, and have many years of experience of stair lift installation in Columbia. Additionally, we only partner with manufacturers who are willing to stand behind their product. This enables us to offer you some of the best stair lift warranties on the market. We enjoy hearing from our satisfied customers like Ronald S. from Columbia: "The owner made the estimate and schedule. His workers became unavailable. He did the installation himself and on time. Top product and service warranty! All at the right price!"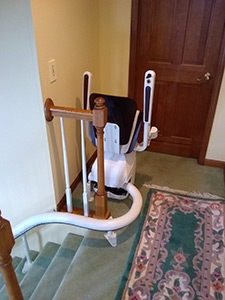 We often receive questions from Columbia residents concerning "stair lift cost." Owner of Options HME Stair Lifts, Jim Campbell answers: "stair lift prices depend a lot on the application. For a typical straight stair lift, you are looking at $2000 to $4000. Our price includes the installation, as well as a one year warranty on labor. If the cost of a new stair lift is out of your budget, we also have used and rental stair lifts available, which may be more affordable. If you are considering a curved stair lift, the cost varies because of the custom nature of the rail."