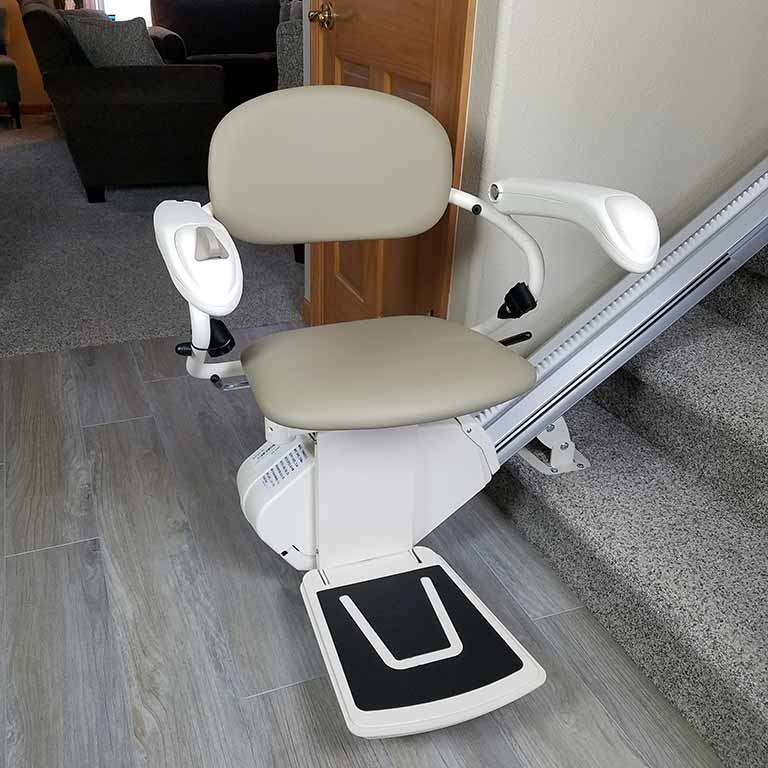 Cost Effective · Convenient · No Long Term Contract
Short term rental available

Options HME Labor Warranty during length of rental

Parts Warranty during length of rental

Affordable monthly payments

No long term contacts

No removal fee
In some cases purchasing a stair lift is not the best option. If you or a loved one is recovering from an injury, surgery, or going through rehab, a rental stair lift may be a good fit. Rather than purchasing a stair lift that will only be used for a short period of time, renting or leasing a stairlift provides you with the temporary help you need, for only as long as you need it.
Options HME - Your Rental Stair Lift Experts
Our rental program is designed on a month to month basis, we never ask you to sign a long term contract beyond the first month. After the first month, you can decide to cancel the rental at any time, and we will come remove the rental stair lift at no additional cost to you. We have been providing rental stair lifts to St. Louis and Southern Illinois since 2007.
Should your rental stair lift need any service or maintenance at any point in time, both parts and labor are covered under warranty. Since we are a local, family owned company, we are able to send out one of our factory trained technicians to fix your stair lift promptly. 
Why rent a stair lift?
There are a variety of reasons that our customers choose to rent a stairlift. In many cases, it provides the temporary help needed while in rehab or recovering from surgery. For others, it is a great option for visitors who have a hard time getting up and down the stairs. Yet another reason may be someone who is in Hospice care. A rental stair lift provides them the ability to stay in the home they love.
How does the rental stair lift program work?
Typically there is an installation fee and the first months rent due at the time of installation. Payments are on a monthly basis and there is no obligation to continue renting beyond the first month. When you decide you no longer need the stairlift, we come and remove it at no additional cost.
What is left behind after the stair lift is removed?
Since a stair lift attaches to the treads of the stairs, a rental stair lift leaves little evidence it was ever there. The only holes left behind are the screw holes from the mounting brackets. In homes that have carpeted steps, many customers find the holes are hardly noticeable after the carpet is brushed back up with a stiff brush. 
What stair lifts can I rent?