*UPDATED 6/7/22 (prices include installation)
Figuring out how much a stair lift should cost can be confusing at times. The prices listed above are a great guideline for determining whether a price is too good to be true or just far too high. If you are considering purchasing a stair lift that falls outside of the price ranges listed above, please proceed with caution and conduct plenty of research on the company you are considering purchasing from – read Google reviews and check their Better Business Bureau listing. You may see prices as low as $1299 or as high as $8,000 for a straight stair lift, but remember that most reputable companies charge $2000 to $5000 for a straight stair lift.
Below are some recommendations on finding the best overall value when purchasing a stair lift. 
New Stair Lift - Cost Comparison
Options HME is a local dealer, installing stair lifts in Southern Illinois and the St. Louis, MO region. If you are interested in getting a quote for your home, please give us a call at (618) 408-1209 or fill out a contact form.
Local Dealers – Lowest Total Cost of Ownership
Often times, a local dealer can offer the best value on a stair lift. Most local dealers offer a labor warranty in addition to the parts warranty that comes with the lift. This way, should there be any repairs necessary within the first year, they are completed at no cost to you. Local dealers may also offer moving guarantees, so if you move to a new home, your stair lift can be moved as well, free of charge. Also, should you need to have the stair lift temporarily removed to move large appliances or install new carpet, this is also included at no cost to you. A buyback offer guarantee also brings down cost of ownership, as it gives you the opportunity to sell the lift back to the dealer and have it removed from your home when you no longer need it. Finally, dealers typically do not attach any additional fees to the sale of your stair lift. A online retailer may charge extra for installation, measurement and estimate, and shipping. Their prices often do not include a labor warranty either. Local dealers include the cost of these services in the quote they give you, so the price you are quoted is the price that you pay.
High Commission Home Repair Co. – Promise of long warranty
High commission home repair companies are just that – high commission. Sales reps are rarely employees, and are instead 1099 contractors paid 100% commission. Since their pay is commission based, the price you pay for a stair lift is not based on cost, but rather what the sales rep believes they can get you to pay. This is similar to many fly-by-night roofing and siding companies. Often these types of companies and their sales reps make promises they do not have to keep, such as the promise of a long warranty. The sales department is often a revolving door with high turnover, vs. a local dealer like Options HME, where your estimate appointment will be with the owner of the company who has been serving the local community for 16+ years. You can identify high commission home repair companies by some of their tactics: 
Large Discounts: One of their first tactics is offering large discounts of up to 25%. Those discounts are easy to offer, with their starting prices upwards of $8,000.
High Pressure Sales Tactics: Repetitive calling, some have reported of 20+ calls in a week. Claims that a price is "only good if you buy today." Collecting large deposits of $1,000+ (Vs. $100 deposit for Options HME).
High Prices: A starting price of $8,000+ for a straight stair lift is more than double the standard market rate.
Overseas Manufacturer – Ability to purchase direct from a manufacturer
Overseas Manufacturer prices often reflect those of a local dealer. While purchasing direct from a manufacturer may sound appealing, there are some costs that customers should be aware of. Manufacturers are not well equipped to provide installation and service of stair lifts. Rather than have local installers available, they often have a single technician that handles installation and service of several surrounding states. While the technicians are skilled and experienced, it often may take longer to schedule an install or have your stair lift serviced. Because of the area covered by a single technician, service and labor warranties can often be quite costly from a manufacturer. This is why many manufacturers have worked to supply local dealers rather than install their lifts via their own technicians.
Online Reseller – Low Advertised Cost
The lowest advertised prices that can be found online are typically posted by online resellers. While they may draw customers in with low prices, often the final cost of a stair lift from an online retailer comes very close to that of a local dealer. We were able to find prices advertised as low as $1749 for a new straight stair lift. Unfortunately the $1749 price tag did not include the $599 up-charge for installation, $150 measurement services, or $225 shipping charge. When these additional costs are considered, the price comes in line with or even exceeds the price of a similar product from a local dealer. While the lifts typically come with a parts warranty, there is often no labor warranty offered and it may be difficult to have someone service your lift in a timely manner.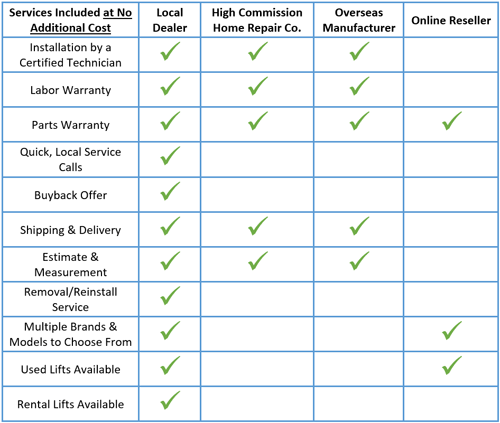 If you are in the market for a stair lift, one of your biggest questions may be about how much a stair lift costs. Something that should be heavily considered is the Total Cost of Ownership, which includes the cost of the stair lift, having it installed, and the cost to keep it in working order for years to come. A wide variety of prices for stair lifts can be found online, with some claiming prices as low as $899 for a used stair lift, or $1749 for a new lift. Unfortunately, such low prices are often for low quality products that are not built to last. These prices also do not reflect the total cost of having the lift delivered, installed, and serviced. The online advertised price often only includes the cost of the stair lift itself, with additional charges applied for shipping, installation, and even measurement services. New straight stair lifts are the most common types of stair lifts and typically can be purchased and installed for between $3000 and $5000 depending on the model you choose. Reputable stair lift dealers often provide some type of labor warranty to guarantee the quality of their work. Be cautious of any company not willing to back up their installation.
We recommend being thorough in your search for a stair lift and company to install and service the lift. There are a variety of options when purchasing a stair lift. Keep these factors in mind when making a decision:
Reputation – Most importantly, choose a reputable company. There are contractors who do stair lift installations on the side, called "chuck and truck" operations. While they may be able to install the lift, they often lack the experience and expertise required to provide service if the lift should need it. Such installers are willing to collect the large check from the install but will refuse to return if service is necessary. Read online reviews, check BBB profiles, and ask your friends and neighbors if they would recommend anyone. Choose a company that you feel comfortable with and believe will continue to provide you with excellent service, long after the installation.

Estimates – When trying to decide where to purchase your stair lift from, participation in a free in-home consultation is encouraged. There are likely multiple companies in your area who would be happy to meet with you in person to answer any questions you have and provide you with an accurate price estimate for the cost of a stair lift in your home. The only cost of a consultation should be your time.

Warranty – Length of warranty can be extremely important. There are two types of warranties available on a stair lift: labor and parts. While a parts warranty obviously covers any parts that must be replaced, a labor warranty covers the cost of a technician coming to your home to complete any necessary service. Pay close attention to warranty periods, as parts warranties can be as short as 30 days, or as long as a lifetime warranty, while labor warranties vary from being nonexistent to lasting a year. It is also important to consider the cost and availability of service after the sale. Some local companies may be able to respond the same or next day, while larger organizations may take over a week to provide service. Also, ask the companies you are considering purchasing from about the cost of their service. The cost of an additional year of labor warranty can be as low as $180 or as high as $500, and hourly rates can differ as well.