The cost of a stair lift can be difficult to cover for some. Although the upfront cost of a stair lift may seem overwhelming, for many people it is still the least expensive option when compared to the cost of moving or entering a nursing home. "Will Medicare or my insurance pay for a stair lift" is a question that many have when considering purchasing a chair lift. While Medicare does not pay for a stair lift, there are a few possible sources of funding.
Most commonly considered sources of funding:
Medicare

Supplemental Insurance

Medicaid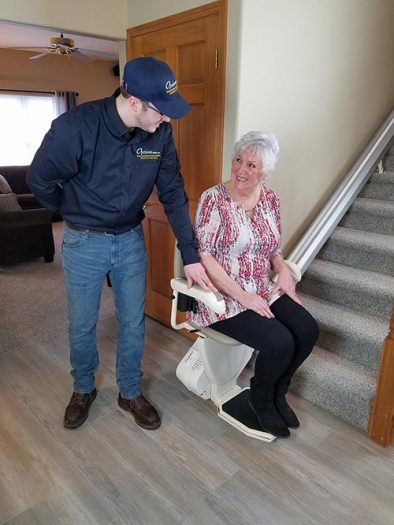 Medicare is the federal health insurance program covering individuals over the age of 65 and younger individuals with disabilities. Unfortunately, Medicare does not cover the cost of a stair lift. Medicare Part B covers durable medical equipment (DME), like wheelchairs, walkers, and hospital beds. However, stair lifts are classified as a home modification and do not fall under the DME coverage. Therefore, it is unlikely that Medicare will cover any cost of a stair lift.
Because Medicare does not cover any of the cost of a stair lift, neither do the supplemental plans. The only plans where some coverage has been seen is for long term care policy holders. If you believe you may be covered, contact your insurance provider.
Medicaid is the state and federal insurance program providing coverage for low income individuals. Medicaid programs and coverage vary on a state by state basis, but there is the possibility of Medicaid covering some of the cost of a stair lift. Medicaid programs seek to take advantage of the cost saving benefit of a stair lift allowing an individual to stay in their home instead of paying for care in a nursing home.
For Medicaid to cover any of the stair lift cost, an individual must be nursing home qualified. Additionally, the stair lift must enable the individual to remain at home. If both of these conditions are met, and the chair lift is deemed medically necessary by a healthcare professional, funding for the stair lift could possibly be acquired.
If funding is available, it will be through the state's Home and Community Based Services (HCBS) Waivers. These waivers are designed to provide financial assistance to those who qualify for nursing home care, but would like to stay in their own home.
Less Expensive Stair Lifts
If you are unable to find any coverage through Medicare, Supplemental Insurance, or Medicaid, consider purchasing a stair lift that will be less expensive. Some local stair lift dealers offer used and rental options to provide you with the mobility you need at a lower price.
Used Stair Lifts
With the cost of a new stair lift typically falling between $3000 and $5000, it often makes sense to consider purchasing a used stair lift if cost is a concern. The price of a used stair lift is usually in the $1500 to $2800 range. Many used stair lifts still retain a year warranty on parts and labor, making them a great option for tighter budgets. Additionally, purchasing from a local dealer gives you access to qualified stair lift technicians who can provide prompt service, should you need it.
Rental Stair Lifts
Stair lift rental and stair lift Rent to Own programs are available. Rental programs are designed to address a short term need such as recovering from surgery or during Hospice care. Rent to Own programs are designed to lessen the up-front cost of a stair lift and allow it to be paid for over a period of time, with you owning the stair lift at the end of the agreement. Both programs typically require an installation fee, followed by monthly payments of $100 to $300 per month.
If you have additional questions, please contact us, as we are happy to walk you through your options for purchasing a stair lift that fits your needs and your budget.