Choosing the Best Wheelchair Lift for Your Home or Business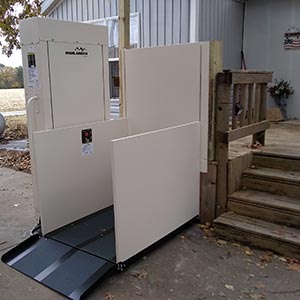 If you need wheelchair access for your home or business, a wheelchair lift is often a great solution. Many homes and businesses do not have the space needed for a wheelchair ramp, as ramps require one foot of length for every inch of rise or height. So, if you have 4 steps, you will likely need a 28 foot or longer ramp.
Wheelchair lifts offer the same level of accessibility, while taking up significantly less space. Choosing the best wheelchair lift for your home or business should be based on two main factors: Installation and Equipment.
Wheelchair Lift Installation
Selecting a company that will provide a safe and correct installation is just as important as picking the lift itself. Choose a company that will install the lift to meet the ASME A18.1 Safety Standard for Platform Lifts and Stairway Chairlifts. For the lift to be fully ASME A18.1 compliant, both the lift and the installation must meet the A18.1 standards. The standard outlines design, construction, and operation guidelines that ensure the lift will operate safely for users. A proper wheelchair lift installation focuses on the following areas: Quality Mounting, Hoistway, Safety Interlocks, Wiring, Meeting State & Local Codes, and Passing Inspections, and Service & Maintenance.
Quality Mounting – Mounting a wheelchair lift properly is critical for years of trouble-free use. One of the most important factors is the mounting surface. For outdoor wheelchair lifts, the lift should be mounted on a concrete pad, at least 4 inches thick. This provides a strong, stable, and level mounting surface for the lift that will not shift over time. Some lifts can be installed on existing concrete driveways or garage floors. If a concrete mounting surface is not present where the lift will be installed, a new concrete pad will need to be poured prior to installation. For wheelchair lifts installed indoors, existing concrete floors on the main level or basement are often sufficient.
Properly mounting the wheelchair lift to the concrete base is another important step of the installation process. At Options HME, we use hardware designed for concrete mounting, which will withstand years of use.
The Hoistway – Having a hoistway properly designed and constructed is crucial to a safe installation. As a wheelchair lift travels upwards, any gaps or protrusions along the lifting wall create a "pinch point" where the user or objects can become trapped between the lift and the wall. Therefore, the lifting wall must be smooth and continuous. Decks are common places for a wheelchair lift to be installed, and a "fascia wall" can be installed underneath the edge of the deck to create a smooth and continuous wall.
For commercial applications, an enclosed hoistway is often necessary and will be constructed to provide a shaft similar to that of an elevator. Options HME is able to provide drawings and dimensions necessary for the completion of a hoistway. We will work with your contractor to ensure that the hoistway construction meets requirements necessary for the installation of a wheelchair lift.
Safety Interlocks – For both residential and commercial applications, the use of safety interlocks is an absolute must when installing a wheelchair lift. Essentially, safety interlocks prevent a door or gate from being opened when the lift is not present at that level. For instance, if the lift is at the bottom of the hoistway, the safety interlock will not allow the door or gate at the top of the hoistway to be opened. This prevents a child or adult from opening the door and falling down the hoistway. Safety interlocks are installed on every lift Options HME installs.
Wiring – Properly wiring a wheelchair lift, especially for outdoor installations, is crucial. The use of conduit for outdoor wiring protects it from the elements and also from damage if it is run through or near a high traffic area. A vertical platform lift requires wiring to provide 120v or 240v AC power. It also requires wires to be ran for the interlocks on gates and doors, call send controls, and automatic openers. Installation of this wiring needs to conform to ANSI/NFPA 70. A local dealer is experienced at installing the wiring for power and controls to meet ANSI/NFPA 70.
Meeting State/Local Codes & Passing Inspection – Choosing a lift with the proper safety equipment and choosing a company that will follow proper installation procedures are two major steps in having a wheelchair lift that will meet codes and pass inspection. All commercial installations (installations other than for a single family residence) require an installation permit issued by Elevator Safety Division of the State Fire Marshal. The lift also has to be installed by a state licensed mechanic and inspected by a state licensed inspector after the installation is complete.
There are some cities and counties that also require a permit and inspection for residential installations. During both commercial and residential inspections, the inspectors will be looking for compliance to the ASME and NFPA codes along with any local codes.
Service & Maintenance – Choosing a local company has its advantages. Vertical platform lifts do require preventative maintenance for trouble free operation. Due to concerns about code compliance and safety, most local dealers will only work on equipment that they have installed. Therefore having a local company install a wheelchair lift insures that they will be available to maintain the lift and provide prompt service when needed. Some technicians from national and foreign companies have to travel long distances. As a result, they may not provide preventative maintenance and it can take weeks for them to respond to a service call.
Wheelchair Lift Equipment
Wheelchair lifts, commonly referred to as a Vertical Platform Lift (VPL) or Vertical Wheelchair Lift, come in a variety of models from different manufacturers. Safety, capacity, and lifting height help determine which wheelchair lift model works best for your situation.
Safety – Choosing a model that will operate safely in your home or business is critical. We recommend choosing a lift that meets the ASME A18.1 Safety Standard for Platform Lifts and Stairway Chairlifts. Not every wheelchair lift on the market meets this safety standard. Be especially careful of low cost models that can be ordered directly online, as these models rarely meet the ASME A18.1 Safety Standard. ASME A18.1 requires features such as an emergency stop switch, obstruction safety pan, and overspeed protection. Additionally, features such as door safety interlocks, which prevent the door from being opened when the lift is not present, help prevents falls.
Weight Capacity – Choose a lift with capacity that exceeds what will typically be lifted. Manual wheelchairs can weigh 15 to 35 pounds, while power wheelchairs and mobility scooters can weigh anywhere from 100 to 400 pounds. Lifts like the Highlander II from Harmar come standard with a 750 pound weight capacity. This provides plenty of lifting capacity for the user, their wheelchair or scooter, and any additional items they wish to transport. Many other wheelchair lifts on the market only offer 500 pounds of capacity.
Lifting Height – How high the wheelchair lift will have to raise and lower the user is another determining factor in which model will best fit your needs. Most manufacturers offer lift models capable of up to 14 feet of travel. These taller lifts are most often used in commercial applications. For home applications or shorter commercial applications, shorter models are available. The Harmar Highlander II is available in heights up to 4, 6, 8, 10, 12, and 14 feet. This allows for you to choose a model that will meet your lifting needs, while minimizing the space taken up by the lift.
We recommend speaking to a local dealer in your area. Options HME serves the Southern Illinois and St. Louis area. Local dealers often have years of first-hand experience and knowledge about installing wheelchair lifts and can answer your questions about which lift to choose and the installation process. Additionally, purchasing from a local dealer allows you to get quality service after the sale should you need preventative maintenance or a service call. If you would like to speak to Options HME about having a wheelchair lift installed in your home, please give us a call or fill out the free, in-home consultation form.