Harmar Highlander Vertical Wheelchair Lift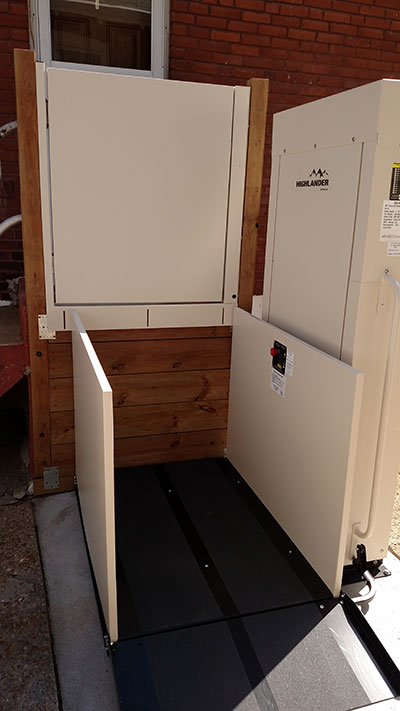 The Harmar Highlander wheelchair lift is designed to offer wheelchair accessibility without the task of transferring from a wheelchair. The highlander is a vertical platform lift, designed to move vertically rather than at an incline like a stair lift. The highlander wheelchair lift is a great solution when a wheelchair ramp is not feasible. The lift can be installed indoor or outdoor and is able to lift to heights of up to 14 feet. The highlander wheelchair lift can handle weights up to 750 lbs. 
The Highlander wheelchair lift can be installed in residential or commercial applications, making your home, church, or business more wheelchair and handicap accessible. The Highlander is a great low cost alternative to an elevator. Both home and commercial elevators require major construction and can be extremely costly to install and maintain. A wheelchair lift can offer many of the same benefits of an elevator, but at a greatly reduced cost.
The Highlander wheelchair lift can grant access to porches, raised entryways, decks, basements, and second floors. Each wheelchair lift comes with a variety of safety features. Some features include: a gated top entrance, emergency stop switch, and a bottom safety pan which stops the lift on the way down if an object is in the way.
The Highlander is designed for years of trouble free operation. The Highlanders motor and controls are located at the top of the tower under a solid steel cover. This is unlike some other units on the market that have their motor and controls located at bottom of the tower. This exposes these critical components to debris  and water that gets into the tower through the slots that the platform uses to move up and down.
Non-skid platform and ramp

Obstruction sensing safety pan

Emergency manual lowering

Runs on 120V AC Circuit

May be installed indoors or outdoors

Hand rail for standing riders
Prefabricated hoist way

Battery back up

90 degree platform

3 Stops

Integrated automatic gate and door openers

Custom colors

Key locks to prevent unauthorized use
Weight limit up to 750 lbs.

Lifting heights up to 14′

Platform sizes up to 42″ x 60″

120v AC 15 Amp Power Requirement

Footprint sizes down to 48″ x 50″

Conforms to ASME A18.1
The Highlander is built in the USA. It also comes backed by a 2 year warranty on parts for the indoor models, and a 1 year warranty on the outdoor models. Options HME also provides a 1 year Expert Warranty on Labor, to ensure the lift continues working properly.