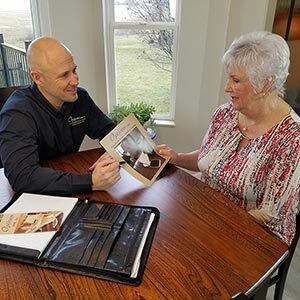 After considering whether a stair lift is the right solution for your home, often the next step is finding out how much one costs. The exact cost of a stair lift can sometimes be difficult to track down, as the cost of a stair lift in your home can vary, depending on the model, options you choose, and your staircase. While some online retailers provide pricing, consumers should take these prices with a grain of salt, as they do not typically include the full cost of installing the lift in your home. Stair lift prices are different for each home because of the differences in staircases. Some homes have short or long staircases, others have landings, doors at the top or bottom, or may end in the middle of a hallway, requiring a folding rail to be installed.
The most accurate estimate for a stair lift price will come from a company that provides a free, in-home estimate. During an in-home estimate, an employee is able to take measurements, discuss specific situations, and address any additional options or equipment that you desire. Be cautious of any companies that are willing to quote sight unseen. Quoting without taking measurements or understanding the stairway where the stair lift will be installed can present multiple challenges. First, it may lead to an inaccurate price, which may leave you with a surprise additional costs at the time of installation. Second, it may lead to choosing the wrong model or a less than ideal fit. Stair lifts can be adapted to fit well into many homes, with the right equipment. If the proper equipment is not accounted for during the estimate, it can be difficult to make the necessary changes on the day of installation.
An in-home estimate has the added benefit of allowing an experienced employee the ability to physically look at the stairs in question, while also providing them a chance gauge the user's capabilities. Many stair lifts can be fitted with additional equipment, tailoring the lift to the user's needs. Additional equipment may include a powered swiveling seat, a powered footrest, seatbelt extensions, or increased weight capacity. It can be extremely difficult to determine the need for any additional equipment over the phone.
In-home estimates also allow you to ask questions and determine if you are comfortable with the company you are considering purchasing from. It can be difficult to judge character, trustworthiness, and professionalism over the phone. This is much easier done in person. Additionally, it provides the opportunity to ask detailed questions. Ask questions like: what side of the stairs will the stair lift be on, how much space will it take up, does pricing include installation, and does pricing include taxes? Asking these questions ensures that you and the company are on the same page and that the price you are quoted is the price you will pay at installation.
At Options HME Stair Lifts, we offer free, in-home estimates for every product we carry. We believe this allows us to best understand your individual needs and you home's unique circumstances. We are then able to create an accurate quote that reflects the full cost of the stair lift, including installation. The quoted amount will be the amount you pay at installation, no surprise costs. Contact us to schedule your free, in-home estimate today!