Purchasing an Affordable Stair Lift in 2021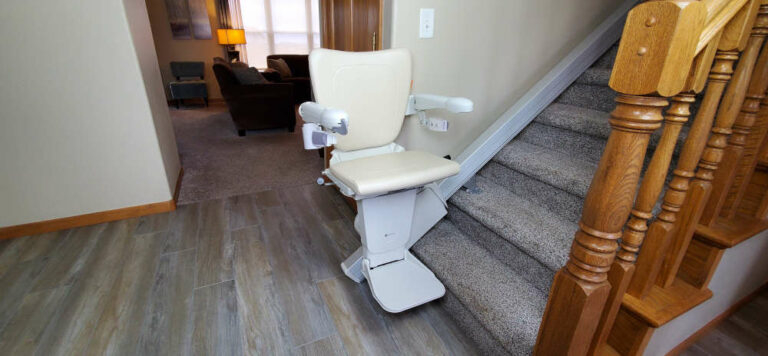 Affordable stair lifts are always in demand. Finding a cost effective way to stay in the home that you love is a priority for many older homeowners. However, the cost of a stair lift can make it difficult for some to afford, causing them to look for cheaper, more affordable stair lifts. Many individuals begin their research online. A quick search online for "stair lifts" returns multiple results, including advertisements for cheap stair lifts. Some ads claim make claims such as "$1299 Stair Lift Special" or "Stair Lifts from $999." Unfortunately these headlines are misleading. On the site claiming "Stair Lifts from $999," the cheapest stair lift available is actually a used stair lift listed at $1299.
While $1299 may still sound like a deal, even this price does not include the true cost of the stair lift. Many hidden costs remain. Want a pair of remotes? Add $199. Installation and measurement? Add $725. Need more than 6.5 feet of rail (most single story stairways are 10-12 feet long)? Add $250 plus $43 for a rail joint kit. Shipping? Add $249. This brings the total cost to have the stair lift operational in your home to $2765. This includes no labor warranty, only a 1 year parts warranty. A long ways from the original advertised price of $999. The story is similar for multiple sites advertising low cost stair lifts online. For someone with a short set of stairs who wants to DIY the installation, this may be a reasonable option, as they could purchase the lift for $1548 (cost of stair lift plus shipping). However for anyone looking for a professionally installed, quality stair lift, there are better options out there.
Online Retailer – Advertised as:
"Stair Lifts from $999"
Used Stair Lift
No Labor Warranty
30 Day Battery Warranty
1 Year Parts Warranty
Actual Cost: $2765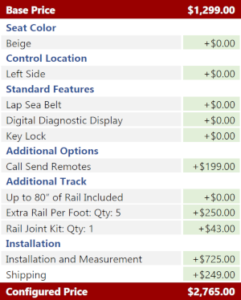 Online Retailer – Advertised as:
"$1899 Stair Lifts"
New Stair Lift
No Labor Warranty
30  Day Battery Warranty
2 Year Parts, 5 Year Drive Train Warranty
Actual Cost: $2923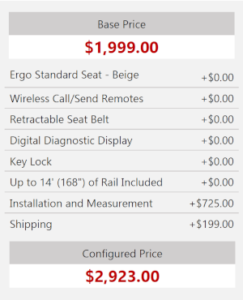 Local Dealer – Quoted as:
$2800
New Stair Lift
1 Year Labor Warranty
1 Year Battery Warranty
2 Year Parts, 10 Year Gear Rack Warranty
Actual Cost: $2800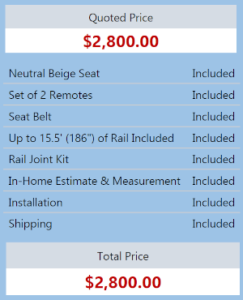 *Pricing taken directly from websites of the leading online retailer, a major online retailer, and a local dealer.
Chances are, a local stair lift dealer services your area. These local dealers often provide three main advantages. First, pricing includes everything. Some dealers offer free, in-home consultations where they will take measurements and provide you with an accurate "out the door" quote. Often, this price will be comparable or even less expensive than purchasing from an online retailer. Second, reputable dealers often include a parts and 1 year labor warranty with the installation of your stair lift. So, should you have any issues, there will be no charge to come out to address them. Additionally, if an issue arises 3, 4, or 7 years from now, they will still be willing to come out and service your lift years down the road. Unfortunately, there are many stories of customers who purchased a stair lift online and are unable to get service for their stair lift from the online retailer or anyone else. Third, many local dealers have years or even decades of experience installing stair lifts, so you can rest assured that your stair lift will be installed properly.
A final consideration when deciding to purchase a stair lift is the quality of the lift itself. Many lifts that can be purchased from online retailers are cost focused rather than quality focused. Additionally, since most online retailers do not offer any service following the sale, they are less concerned with the reliability of the stair lift, since they will not be the ones servicing it. However, local dealers who offer stair lifts with parts and labor warranties know that they will have to return to service the lift at no cost if an issue arises. This leads to local dealers selecting quality, reliable stair lifts with components that last. Years of experience installing and servicing stair lifts gives dealers the insight necessary to choose the lifts that will provide years of reliable use.
Ultimately, you will decide who you purchase a stair lift from. Hopefully, this article sheds a little light on the actual cost of a stair lift and helps look past the eye catching but misleading $999 or $1299 prices that are advertised online. If you live in Southern Illinois or the St. Louis Area and would like to speak to a local company who has served the area for the last 15 years, please contact us.