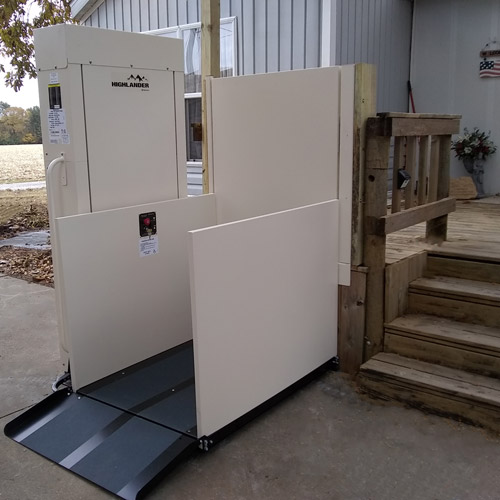 Affordable · Safe · Reliable
Benefits of a Used Wheelchair Lift:
Less expensive than a new wheelchair lift
1 Year Options HME Labor Warranty
1 Year Parts Warranty
Through 35 point inspection
Many of the same safety features as new wheelchair lifts
Call to find out which used models we have in stock!
Used wheelchair lifts are a great option if you are looking for a lower cost way to reach your deck, porch, or raised entryway. The used wheelchair lifts we offer are lifts that we sold and have later purchased back from our customers who no longer need them. Each lift goes through an extensive 35 point checklist, including a functional test and replacement of worn or broken parts. For added piece of mind, each of our used wheelchair lifts comes with a 1 year warranty on parts and labor.
Options HME Used Wheelchair Lift Expertise
At Options HME, we have been installing and servicing used wheelchair lifts in St. Louis and Southern Illinois since 2007. Our factory trained technicians have years of experience completing installations, and will provide you with a professional level installation that will fit your home. Every used wheelchair lift installation we complete will meet the ASME A18.1 Safety Standards for Platform Lifts and Stairway Chairlifts. Additionally, the lifts we install come standard with safety features & sensors, and our technicians test each safety feature before walking you through the first ride.
Because we are a local, family owned company, should you ever need any service or maintenance on your used wheelchair lift, we can provide prompt service, even long after the first year of warranty coverage. If you are interested in a used wheelchair lift, please contact us so we can provide you a free in-home estimate.
Frequently Asked Questions
How much does a used wheelchair lift cost?
Most individuals choose a used wheelchair lift because of the lower price. While there are many companies that advertise discount or cheap wheelchair lifts online, many of those companies do not include the cost of installation or provide service after the sale. Our used wheelchair lift prices include installation and a warranty on parts and labor. Unfortunately, the cost of a used wheelchair lift can be difficult to determine without detailed measurements and a free consultation. We recommend scheduling a free, in-home consultation to get the most accurate quote.
What wheelchair lifts are available used?
Vertical Platform Lifts (VPL), like the Harmar Highlander pictured above, are the wheelchair lifts we have available as used. Please contact us to see what used wheelchair lifts we have in stock at this time.
Should I buy a new or used wheelchair lift?
The decision often comes down to your wants and needs. The largest differences that exist between a used wheelchair lift and a new wheelchair lift are price, warranty, and availability. Used are less expensive than new in nearly every case. The length of the parts warranty is typically longer on a new wheelchair lift, but varies based on the model and year. Finally, availability of used wheelchair lifts varies, depending on demand. New wheelchair lift are available to be ordered at your convenience. If you are unsure whether to go with new or used, set up a free in-home consultation and we will provide a quote for both!
Will everything work on a used wheelchair lift?
Yes! Prior to installing a used wheelchair lift, Options HME conducts a 35 point inspection to ensure everything on the lift is working. Everything is then tested following the installation before letting you take it for a test ride.