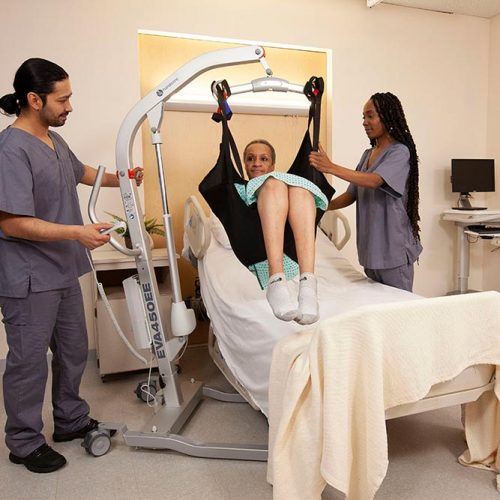 Hoyer Lifts are an excellent way to safely transfer someone from a bed to a wheelchair, bathroom, chair, or other location.
All Hoyer Lifts that Options HME provides feature electric lifting motors – eliminating the need for manual hydraulic jacking.
We offer multiple models, so you are able to find a lift that fits your needs and your budget.
Interested in a Hoyer Lift? Give us a call today to set up a free, in-home assessment!
All models feature electric lifting motors, no hydraulic jacking required

350 lbs, 450 lbs, 600 lbs, and 700 lbs weight capacity models available

Low Legs (low profile legs designed to easily glide under low bed frames) available

Manual or power spreading legs available

Power Drive available 

Variety of lifting bar sizes available

Foldable model available for easy storage

Battery Operated (no trailing cords)

Selection of over 40 slings to choose from
Designed for those who are working towards the ability to stand or are able to stand but need assistance getting there

 330 lbs, 375 lbs, 440 lbs, and 450 lbs models available

Optional support slings available

Manual or Power base widening available