Handicare Xclusive Stair Lift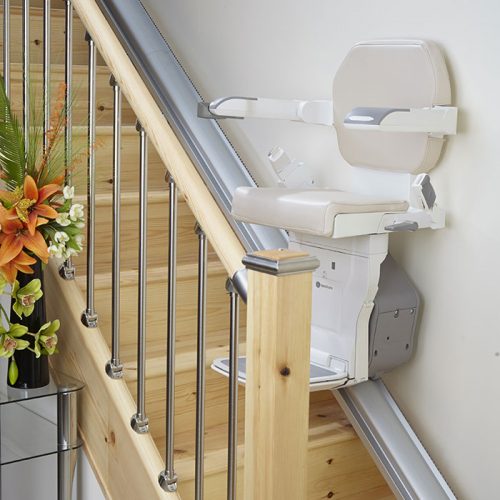 The Xclusive stair lift is Handicare's premier model. Safety and usability is what sets the Xclusive apart. It comes standard with a retracting seatbelt, safety sensors on the footrest, automatic end stops, an emergency stop switch, and a key switch to prevent use by children.
Additionally a power folding footrest and power swiveling seat are optional equipment which eliminates the need for the user to bend down to fold the footrest up and swivel the seat.
Finally, an option for continuous charging is available. The continuous charge feature allows the unit to charge at any point on the rail, rather than just at the top or bottom of the rail.
Digital diagnostic panel for easy troubleshooting

Manufacturer lifetime warranty on motor and gear box

2 Year warranty on all other parts

Options HME 1 year Expert Warranty on Labor

Folding foot rest, seat bottom, and arm rests so there is a clear passage for those still climbing the stairs

Adjustable seat height that reduces the difficulty of getting in and out of the seat

Retractable seat belt that is stored neatly when not being used

Easy manual swivel seat for safe loading and unloading at the top of the stairs

Set of 2 remote controls to send the lift up and down the stairs without a rider

Obstruction sensors on the footrest and chassis to prevent collision and injury
Key switch to prevent unauthorized use
Battery operated so chairlift will operate when there is a power outage
Power folding footrest

Power swivel seat

Continuous charging
Capacity – 285 lbs.

Width between arm rests – 18″
Room taken up on steps when folded – 13″
Seat height – 16″ – 20″
Drive system – rack and pinion
Required power supply – Plugs into standard 120V AC outlet
Control Circuit _ 24V DC