Handicare 1000 Outdoor Straight Stair Lift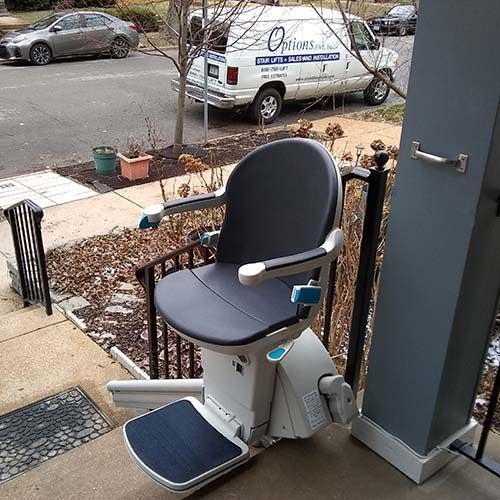 The Handicare 1000 outdoor stair lift is built to handle the elements. It is designed to operate safely in hot or cold and dry or wet conditions. It features a hidden gear rack to minimize debris interfering with operation of the lift. The 1000 also comes with a weather proofed cover to keep your stair lift clean and dry while not in use.
The Handicare 1000 outdoor stairlift still carries top of the line safety features. Standard features like a seat belt, obstruction sensors, emergency stop switch, and a key to prevent use by children can all be found on the 1000. Customers also have the option to add on a power folding footrest and a power swiveling seat for added ease of use.
Outdoor cover

Manufacturer lifetime warranty on motor and gearbox

2 year warranty on all other parts

Options HME 1 year

Expert Warranty on Labor

Folding foot rest, seat bottom, and arm rests so there is a clear passage for those climbing the stairs

Retractable seat belt that is stored neatly when not being used

Easy manual seat swivel for safe loading and unloading at top of stairs

Two wireless remote controls

Obstruction sensors on footrest and chassis to prevent collisions

Battery operated so chair lift will operate when there is a power outage

Diagnostic panel for easy troubleshooting

Keyed operation to prevent unauthorized use
400 lbs. weight limit upgrade

Spacers to increase width between arm rests

Power folding footrest

Power swiveling seat

Continuous Charge
Weight capacity – 350 lbs. optional 400 lbs.

Width between armrest – 18″ to 22″

Seat height – 18″ to 21″

Folded thickness – 15″

Drive system – rack and pinion

Required power supply – Plugs into grounded 120V AC outlet