Customer Reviews for Options HME Stair Lifts
We value and encourage customer feedback. Read about our customers' experiences with Options HME Stair Lifts below and decide if we are the right fit for you and your home.
If you are one of our customers and would like to leave a review, the link to do so is located at the bottom of the page.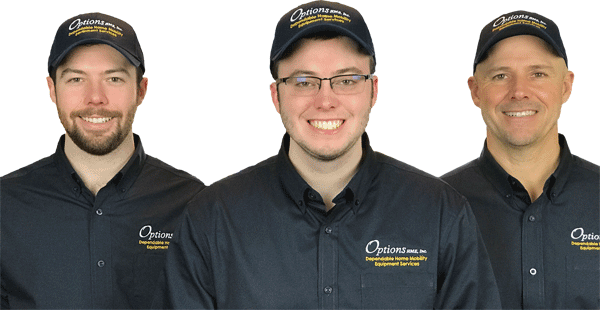 Ray F.
8/21 O'Fallon, IL
It was a very good experience with Options HME Stair Lifts, they made the complete process painless and were very professional in the interview to determine our needs and the installation of the Stair Lift. I would highly recommend them. Judith M.
5/21 Waterloo, IL
I am so happy that I found Options HME on the internet. They came to the house to measure and to give me a fair estimate. They had the perfect lift for our needs and installed it in the span of two weeks. Jim was very helpful in helping me decide what was needed and Mitch, the installer, was great. He was here on time and worked very quickly. He also made sure that my husband took a ride and explained everything to us. Great company! I would recommend them to anyone. Virginia V.
3/21 St. Louis, MO
We were very impressed by the quality of work and the demeanor of Jim Campbell, the owner who explained everything regarding the purchase and installation of a chair lift. His son, Mitch, who installed our chair lift was on time, pleasant and very efficient in his installation. Mitch made sure that we were comfortable with his instructions on the chair lift's operation and assured us that should any questions/concerns arise that we should phone just give them a call!

Jacque Scherff Eversgerd
5/21 Pierron, IL
I highly recommend Options HME. They were very helpful answered all our questions. Very prompt in installing the chair lift. We asked for a demonstration they brought one to the house. My Mom is very happy with the purchase. Now she can stay in her home.

Monica Brooks
4/21 Caseyville, IL
Great service, great product, very happy with them!

Kenneth Rueter
11/20 Florissant, MO
Absolutely perfect service, great product, and installation that was faultless. Would recommend this company without hesitation.

Jason Evgenides
10/20 O'Fallon, IL
Great experience working with Options HME. From initial visit and estimate to having chairlift installed was less than a week. Very courteous and friendly throughout the entire process and they stand by their work. HIGHLY recommend.

Jeri Hohrein
11/20 Belleville, IL
Wonderful service. Knowledgeable, courteous, and neat. Would definitely recommend them.
Leave us a Google review by clicking one of the buttons below.
Leave us a Facebook review or "Like" by clicking the buttons below.
Leave us a Better Business Bureau review by clicking the button below.